The 16th Political Council of the Bolivarian Alliance of the Peoples of Our Americas-Peoples' Trade Treaty (ALBA-TCP) opened on Thursday with the aim of strengthening unity and the capacity for consultation, Granma newspaper reported.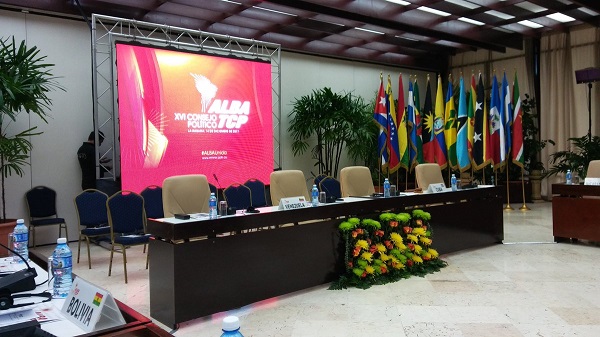 The ALBA-TCP meeting will reinforce the organization's unity and capacity for consensus, leaving behind everything that divides and separates the region, the daily noted.
Granma emphasized that Latin American and Caribbean integration is more necessary than ever.
This integration will be one of the guidelines of the 16th ALBA-TCP Political Council, which will be held today in Havana, according to reports.
The ALBA-TCP will continue path paved by former Presidents Fidel Castro and Hugo Chavez, in order to defend the Americas' homeland and, in this regard, Latin America and the Caribbean will be reaffirmed as a peace zone, the newspaper stated.
Granma pointed out that the ALBA-TCP Political Council will support Venezuela's sovereignty and self-determination in the light of constant political-media attacks by the opposition.
In addition to the Council, Granma said that the 18th Cuba-Venezuela Intergovernmental Commission will meet today to review this year's bilateral collaboration and to draw up the guidelines to be implemented in 2018.
Among the issues to be addressed by both countries are health care and Cuba's participation in the social missions carried out by the Venezuelan government.
The Intergovernmental Commission meet in Caracas last year, when several agreements were signed on economic, health care, culture and sports. It established that rationality and efficiency would be the main principles of binational ties in 2017.
Granma recalled that 'the solidarity vocation and the irreversible nature of collaboration between Cuba and Venezuela has been sustained for almost 17 years within the framework of the Comprehensive Cooperation Agreement, established and signed by Commanders Hugo Chávez and Fidel Castro on October 30, 2000'.