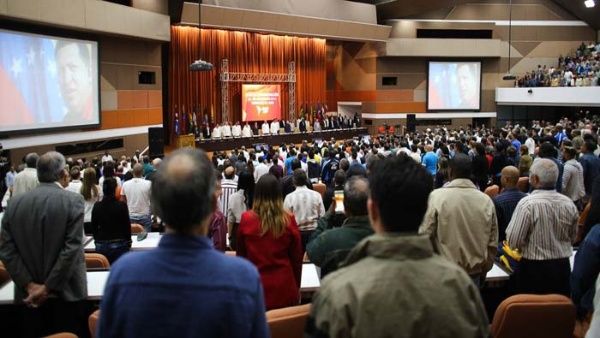 The Secretary General of the Bolivarian Alliance for the Peoples of Our America (ALBA), Bolivian David Choquehuanca, stated today that one of the objectives of this organization is for humanity to dream again
'ALBA is to recover, to re-dream when we are awake or asleep, but in a communal way' said Choquehuanca exclusively to Prensa Latina in the context of the 16th Political Council of the Bolivarian Alliance for the Peoples of Our America-Trade Treaty of the Peoples (ALBA-TCP) that took place here. Our peoples were disintegrated, the continent where we are has an identity, it is called Abya Yala and for centuries it was protected by our Kuna brothers, now settled in Panama, and they did not protect it for themselves, but for all of us, Choquehuanca recalled.
In Abya Yala, there were no borders, no flags to divide us, we worked for brotherhood, unity and harmony until strange men arrived from other latitudes and the division began, they began to dismember us with the systematic plundering of natural resources, stated the former Bolivian foreign minister.
'First they divide us, disintegrate us and then steal our wealth,' he said.
Therefore, Choquehuanca pointed out, men like the historical leader of the Cuban Revolution, Fidel Castro, the Venezuelan commander Hugo Chávez, the first indigenous president of Bolivia, Evo Morales, and the ex presidents Luiz Inácio Lula da Silva (Brazil) and Néstor Kirchsner (Argentina), decide to build integration again.