The Fifth Summit of the Community of Latin American and Caribbean States (CELAC) has begun today in this eastern Dominican town, in the presence of more than 10 presidents and two prime ministers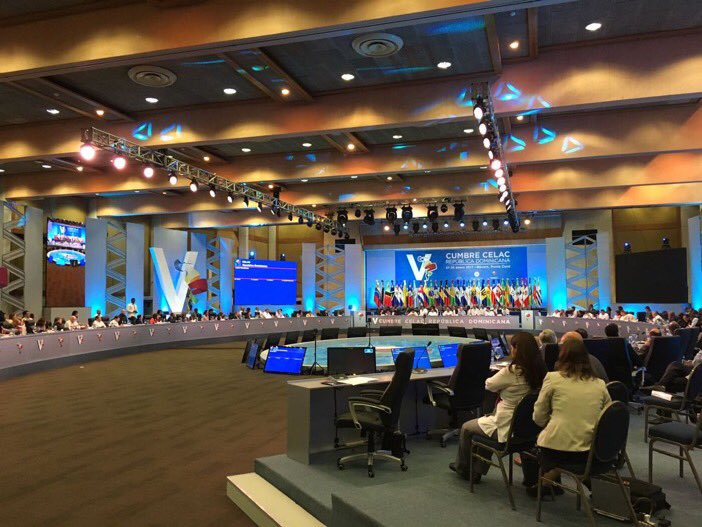 According to the Ministry of Foreign Affairs, three vice presidents and 30 foreign ministers from the nations of the bloc, as well as representatives from regional and extra-regional organizations, will also participate.
The official opening ceremony of the meeting of the mechanism of dialogue and political understanding will be held in the afternoon. The political declaration (from Punta Cana) and 20 special declarations will be presented to the heads of State and Government attending the summit for their approval.
Among the issues under discussion are the need to put an end to the U.S. economic, commercial and financial blockade against Cuba, as well as other issues related to food security, migration and development, and the world drug problem.
The issues on nuclear disarmament, gender, women's advancement, financing for development, the return to Cuba of the territory occupied by the U.S. naval base in Guantanamo and indigenous languages, are also on the list.
Prior to the official opening ceremony of the summit, the meeting of foreign ministers of the 33-nation bloc will take place today. This bloc was established in Caracas, Venezuela, in 2011.
The national coordinators of the state members of the regional bloc continued working last night on the third day to finalize the documents that will be presented to the presidents.
CELAC, which brings together all the nations of the American continent, except the United States and Canada, had its first presidential meeting in Chile in 2013, the second one was held in Cuba (2014), the third in Costa Rica (2015) and the fourth in Ecuador (2016).