The first day of high-level debate of the UN General Assembly rejected once again the U.S. economic, commercial and financial blockade on Cuba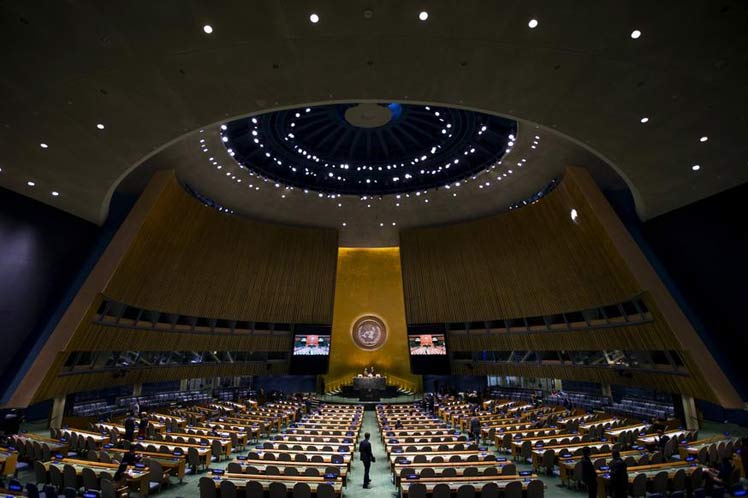 Since yesterday morning, when the general debate of the 71st session began, until night, the heads of State from several countries called for the lifting of the siege and welcomed the progress in face of the normalization of relations between Havana and Washington.
"The Necessity of Ending the Economic, Commercial, and Financial Blockade Imposed by the United States on Cuba,"
Uruguay's President, Tabare Vazquez, described as unjust the blockade to the island. He stated that while it is in force, the South American nation will continue claiming its definitive lifting at the Assembly.
In our speech last year, we express our hope that this period of session was the last to analyze the issue, he said.
For its part, Costa Rican President, Luis Guillermo Solis, said in the forum the need of hearing that global demand to end the siege, applied by the White House for more than 50 years.
'We think it is time to pay more attention to the systematic, almost unanimous demands, of the international community to lift the economic, commercial and financial blockade on Cuba,' he said.
Guyanese Head of State, David Granger, called for the complete elimination of the blockade 'on other Caribbean country, the Republic of Cuba.'
In his opinion, this is an issue linked to the preservation of sovereignty and its relationship to sustainable development.
Mexico's President, Enrique Peña Nieto, and Brazil's Michel Temer, called for the cessation of the blockade imposed on the Caribbean nation.
During the high-level debate of the Assembly, Panamanian President, Juan Carlos Varela, expressed his expectations that the rapprochement between the governments of Cuba and the United States continue developing to achieve a full normalization of its diplomatic relations.'
In turn, the president of the Argentine Government, Mauricio Macri, considered the rapprochement between Havana and Washington an encouraging piece of news.