The third session of the Cuba-United States Bilateral Commission is held in Havana today to discuss the development of relations and the programs that both sides will carry out in 2016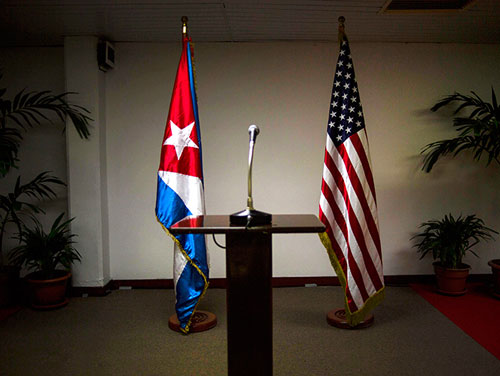 The Cuban delegation is presided over by the General Director of the United States Department at the Ministry of Foreign Affairs (MINREX), Josefina Vidal, and the U.S. side is led by Kristie Kenney, advisor to the Secretary of State, John Kerry.
The working group was conformed after Kerry's visit to Cuba last August, and two meetings have been held to date: the first took place on September 11th 2015 in Havana and the second on November 10th 2015, in Washington D.C..
The results of the development of ties between the two neighboring nations in the last 17 months can be seen in the political and diplomatic field, particularly in the restoration of relations at diplomatic level and the opening of the U.S. embassy on July 20th, 2015.
Of particular importance have been the three meetings between the presidents of the two nations, Barack Obama and Raul Castro, in particular the visit of the former to Havana in March of this year.
Economically, however, there has been no significant progress due to the persistence of unilateral sanctions. This is despite the broad powers the U.S. President has to amend or abolish the laws that support the blockade.
The deputy director general of the United States department at MINREX, Gustavo Machin, said that this session of the Bilateral Commission would be an opportunity to review the agreements of the previous one.
During a press conference on Thursday, May 12th, at the Ministry of Foreign Affairs, Machin mentioned that the talks would focus on the signing of cooperation agreements on issues of mutual interest, as well as the completion of high-level visits to both countries.
The stance of the Cuban authorities is that to normalize relations between the two nations, Washington must lift the economic, commercial and financial blockade, which has been maintained on the Caribbean nation for more than 50 years and return the territory illegally occupied by the U.S. naval base in Guantanamo.
They also demand the cessation of harmful policies which act against Cuban sovereignty, such as the immigration preferential treatment given to Cuban citizens arriving in U.S. and the illegal television broadcasts to the Caribbean country.
Havana demands that the United States eliminates programs designed to change the social systems of the island, which is one of the objectives of the current policy toward Cuba, as President Obama recognized on December 17th, 2014 and other U.S. officials have reiterated on subsequent occasions.