The leader of emergent party Podemos, Pablo Iglesias, expressed today to King Felipe VI the willingness to form government in Spain with the Partido Socialista Obrero Español (PSOE) and Izquierda Unida (IU)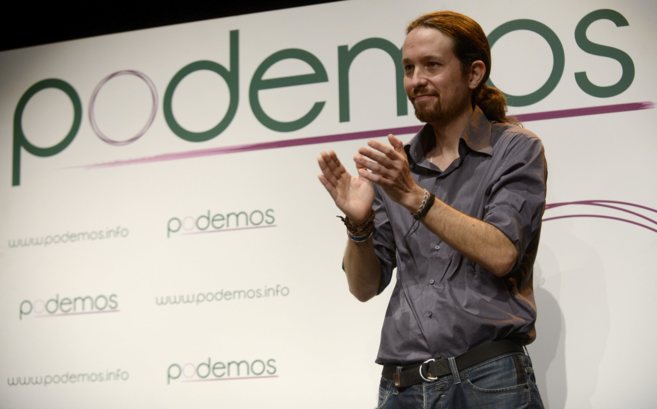 We have decided to take the initiative and move forward, emphasized Iglesias, for whom the moment the country lives now has no place for middle ground and requires a plural government with a proportional composition to the results of December 20 elections.
Either one is for change or for stagnation and blockade, stressed the secretary general of the third parliamentary force after his audience with Felipe VI.
In a press round, the young university professor revealed he submitted to the monarch this Friday his proposal of forming an executive of change with PSOE and IU and the supports necessary for an investiture.
He added that the also Head of State thought reasonable his proposal in view of the result of general elections a month ago, in which conservative Partido Popular (PP) lost parliamentary hegemony to hold on to power another four years.
Although it ended as the most voted force at the ballot box, the grouping of exiting president Mariano Rajoy, barely got 123 seats in the Congress of Deputies, far from the required 176 to be absolute majority.
The PSOE came in second with 90 deputies in the lower chamber, followed by Podemos (center left) and Ciudadanos (center right) with 69 and 40 seats, respectively.
The irruption of the latter in the political scenario, dominated for the last three decades by PP and PSOE, left the Congress as the most fragmented in times of democracy.
Questioned by journalists, Iglesias answered that still he did not present his proposal to the secretary general of the PSOE, Pedro Sanchez, nor to Alberto Garzon, leader of the IU and candidate to the recently held elections.
In that eventual coalition he confessed to aspire to the vicepresidency, as well as to a ministry headed by En Comun, one of the three territorial confluences with which Podemos took part in elections and had won in Catalonia.
Among other conditions to the formation of that alliance, he mentioned the future ministers of Economy, Defense and Interior must be aware of the desire to change expressed at the polls and the application of significant reforms.