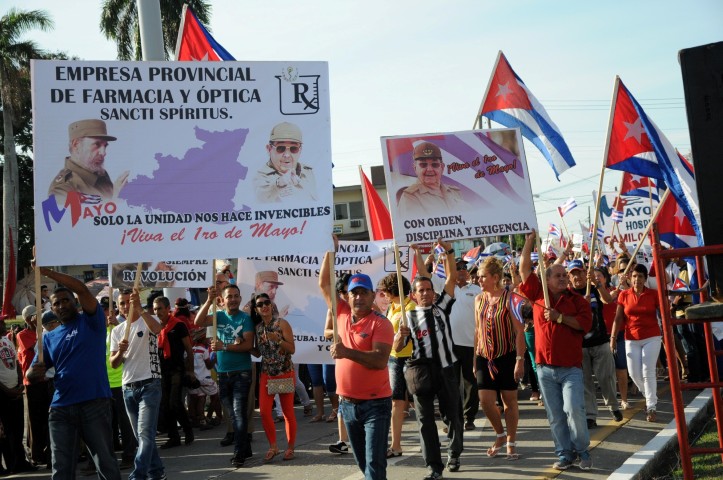 Thousand residents of Sancti Spiritus marched this 1st of May to commemorate the International Workers' Day
The workers of the Education, Science, and Sport trade union were chosen to open the massive parade, decision which was supported by the result of their work in the different spheres, and the commemoration this year of the 55th anniversary of the Literacy Campaign.
Raul Castro Presides Over Workers' Day Commemoration in Havana
What Happened on May Day in Sancti Spiritus, Cuba
Mercy Rodríguez Crespo, secretary general of the Cuban Trade Union (CTC) in Sancti Spiritus addressed the people early this morning to stress the support towards the resolutions adopted in the recent 7th Congress of the Communist Party, to denounce the unfair US blockade on the island, to demand the return of the illegally occupied territory of the Guantánamo Naval Base, and to reaffirm the solidarity of Cubans towards Latin American and world countries.
The workers' parade in Sancti Spiritus was presided over by Abelardo Alvarez Gil, member of the Secretariat of the Central Committee of the Party; Susely Morfa , member of the Central Committee and second secretary of the Youth Communist League in the country; Víctor Lemagne Sánchez, member of the National Secretariat of the CTC; and José Ramón Monteagudo Ruiz, member of the Central Committee and first secretary of the Party in Sancti Spiritus.