Cuban President Raul Castro chaired the main event on International Workers' Day held at Havana's Revolution Square this Sunday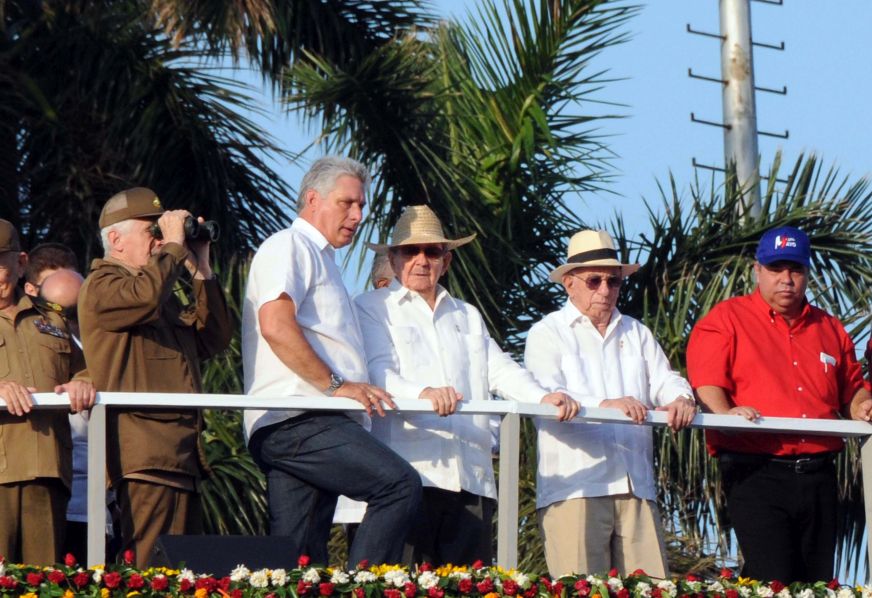 At the tribune built at the foot of the monument to Cuban National Hero Jose Marti, Raul Castro is accompanied by government leaders, including First Vice President Miguel Diaz-Canel and Vice President Jose Ramon Machado Ventura, as well as former workers' leaders, founders of national trade unions, workers, inventors and prominent retired workers.
Also present at the tribune are representatives of the diplomatic corps accredited here.
It is the first mass rally held after the 7th Congress of the Communist Party of Cuba (PCC), which took place from April 16-19 and ratified that path. The May Day parade is expressing the people's will to play a leading role in that process of changes.
Thousands of trade union members from the education sector led the parade in Havana, where the main event for the International Workers' Day will take place, in the context of the 55th anniversary of the Literacy Campaign and the declaration of Cuba as an illiteracy-free territory. Under the main slogan "For Cuba: Unity and Commitment", the march is also celebrating the 90th birthday of the leader of the Cuban Revolution, Fidel Castro, the 60th anniversary of the landing of the Granma expedition and the 55th anniversaries of the Victory in Playa Giron (Bay of Pigs) and the proclamation of the socialist nature of the Revolution.
On May 2, an International Event of Solidarity will be held in Havana, with participation of 209 representatives of trade unions, institutions and social movements from 34 countries.
Nearly 1,600 personalities and members of trade unions from Latin America, the Caribbean, Europe, Africa, Asia and Canada traveled to Cuba to participate in the May Day festivities.