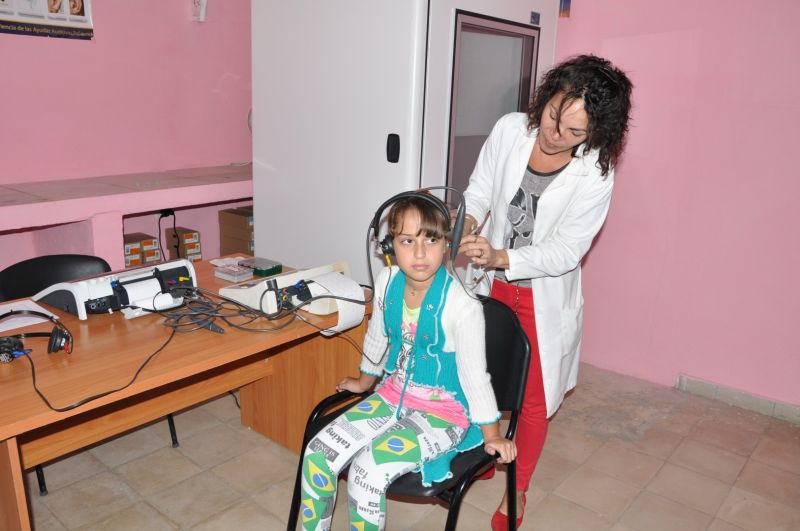 Young Raul Rojas did not know how to explain it. He did not even understand why he acted different from others. His mother, Virginia Alarcon, didn't comprehend why her child had learned only a few words and was only dedicated to imitate people.
"He was born normal. After he was one year old, he only said the words milk, yogurt, and egg. For the rest he used signs. His kindergarten teacher advised me to see a speech therapist. Once submitted to the hearing potential tests, he was found to have 70 decibels of hearing loss, and at present moment he has already 95".
Virginia tells about every moment in detail. She doesn't need to say it: she lives for her son. She quit her profession as an accountant to be able to make the trips to Havana's William Soler Hospital, where the child is treated by a multidisciplinary team. She says to be very grateful for the care provided to her son in the pediatric hospital of Sancti Spiritus, and for the dedication of the speech therapists and the teacher at the deaf school.
"Raul has improved a lot —said Virginia with an optimistic look in her yes—. The prosthesis device allowed him to quickly learn the names of animals, and in only seven days he knew all the colours. He already masters the sign language and he can also talk. He's very interested about learning. I didn't need any influence to treat my son. I have never been asked to give presents to the physicians or to any of the many people that have helped me. All of them have been wonderful".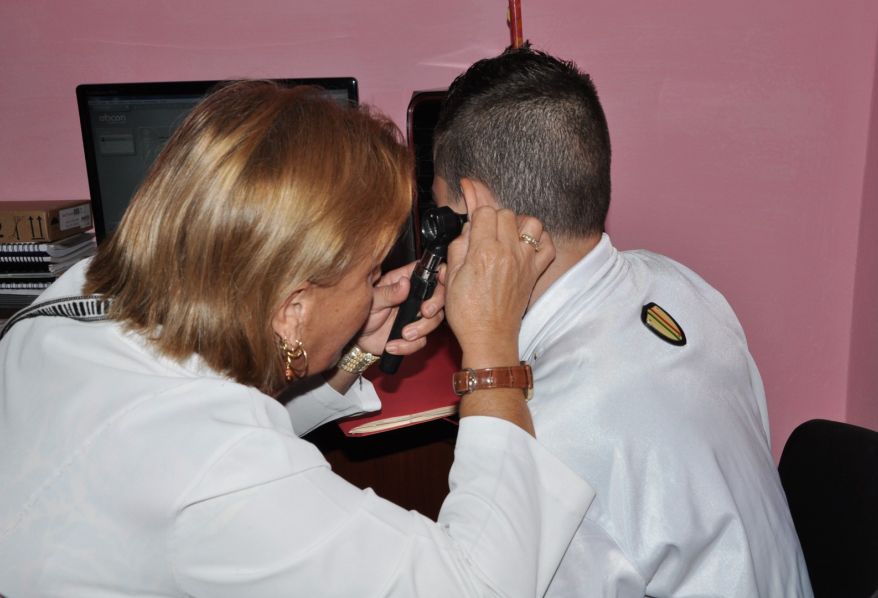 WITHOUT MAGIC WAND
Deafness also finds ways of light. For people suffering from this type of disability, getting a hearing aid is true salvation. In the Provincial Hearing Centre of Sancti Spiritus, a multidisciplinary team of specialists and technicians make news every day without stirs or magic wands.
"The consultation existed before, but the specialized institution was opened in early 2012 to treat the hearing impaired population, both children and adults. It's only two people who work permanently, the rest of the specialists come from other health facilities. Here we program the prosthesis devices, sell and repair equipments and batteries, take the impressions for the molds, while a psychologist can make the necessary evaluations" said Dr. Flora Cañizares, head of audiology service in the province.
About 1,000 patients are currently being taken care of in this institution. They are referred by their otolaryngologists, and here we decide whether they need the prosthesis. Profoundly deaf child patients in need of cochlear implants are also treated in this center.
"Although we don't always have the equipment, we give priority to children, and solve their problems as soon as possible. The success of our work depends a lot on the family. It is important to raise awareness of the value of all the equipment and the need for their use. Hearing loss is irreversible but prostheses devices can help reach levels close to normal limits. Early detection is essential for a quick integration into society", said the doctor.
Once provided with the hearing device, patients must go for training in the rehabilitation clinics of the municipality where they live, depending on their own possibilities. Some patients improve more than others in the socialization process, and they can even get access to normal teaching.
Cuba must pay between 500 and 1000 euros for the prosthetic devices in the international market, yet they are sold to patients in just around 100 Cuban pesos, depending on the model of the device. For the last few years digital equipments —which are much more expensive— have been available. Their volume and intensity are graduated with computer programs, and are more effective.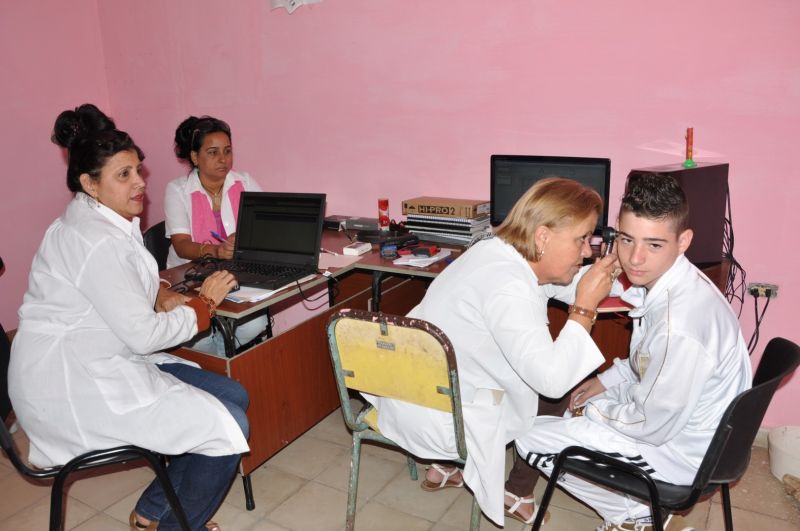 FROM SOUND INTO THE LIGHT
Deafness is a disability currently increasing, and can appear before delivery, during childbirth, or in adulthood. Experts agree to say that the "fashion" of wearing earphones is damage for the hearing organs.
Ruled by the Pharmacy and Optical Company, the Provincial Hearing Centre has significantly improved the care for these patients, despite limitations such as lack of lighting and air conditioning, shortage of furniture and architectural barriers that hinder access to the facility.
"We have a waiting list of more than 300 adult patients. Many elderly come looking for our help, but we did not receive prostheses for seniors in significant numbers for the last three years. Here we do some repairs, but we lack enough spare parts. We hope to get some Cuban-made parts this year", said young electrometrical specialist, Dayana Rojas.
Although this health facility was supplied with significant equipment last year, the audiometer is out of order. So, the patients must go for hearing tests to the nearby province of Santa Clara, or to the deaf or hard of hearing special children school.
"This service is highly demanded, but we give priority to children, youth, people who depend on their voice to do their job like teachers and broadcasters, and those persons who still have an active working life", explianed Dr. Mabel Sarduy, specialist on otolaryngology and audiology.
With a great sense of responsibility and sensibility, the staff of this center devotes hours to make it possible that sound turns into light in the eyes of those who need at least a signal to connect with the world.