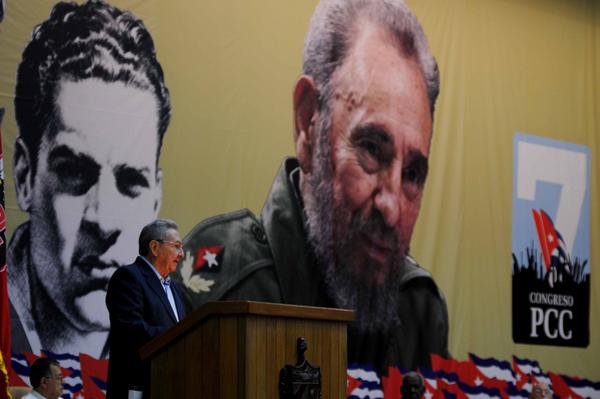 The First Secretary of the Central Committee of the Communist Party of Cuba (PCC), Raúl Castro, ratified today that the country is on a steady course, advancing without haste, but without pause in the construction of a prosperous and sustainable Socialism.
Reading the Main Report at the inaugural session of the 7th Congress of the PCC, the Cuban president said the country gets to this meeting with the presentation of four important draft guiding documents, mainly related to the conceptualization of the country's economic and social model.
Such documents also includes the development plan through 2030, the view of the nation, its cores and strategic sectors, the evaluation of the guidelines approved in the gth Congress and their updating for the next five-year period, as well as the materialization of the PCC targets in its work based on its First Conference.
Raul Castro described those documents as comprehensive and very complex, as they will mark the course of the Cuban revolutionary process of the PCC and the society in the construction of a prosperous and sustainable Socialism.
Such projects are inextricably linked, and we must approach them not as a fully complete work, or see them with static, dogmatic prspective, but at the end of the debates of this 7th Congress they will be the subjects of periodical evaluations, he said.
The Cuban president said these projets are the result of collective work, involving university professors, scholars, researchers of economic ans social sciences and officials of the Government and the PCC.
Referring to the conceptualization, which includes the theoretical basis and characteristics of the economic and social model expected to be achieved as a result of the process of updating of the country and the national development plan, he called for its discussion by different sectors of the population.
In this regard, Raul Castro urged PCC members, the members of the Young Communist League and representatives of the mass organizations and broad sectors of the population to discuss democratically these issues after their analysis in Congress in order to enrich and improve them.
On the process of updating of the Island, he said Cuba is steady on its feet, going forward without haste but without pause, gradually and comprehensively, for the country to succeed.