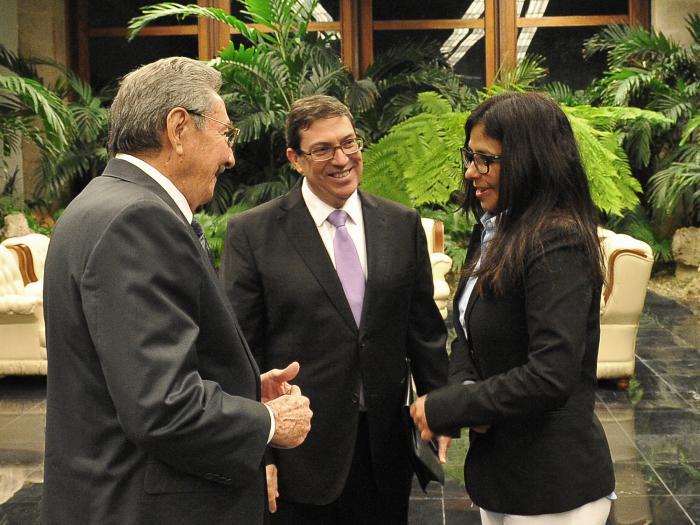 Cuban President Raul Castro received Venezuelan Foreign Minister Delcy Rodriguez in an occassion in which both exchanged on the excellent relations between Cuba and Venezuela and ratified the will to keep on empowering them.
The Cuban President reaffirmed the Cuban demand that the Executive Order 13692 is eliminated and reiterated unconditional support from the Cuban people to the Bolivarian Republic of Venezuela, the Government of President Nicolas Maduro and the civic military union struggling to maintain peace, constitutional order and the achievements of the revolution.
An article published today by the newspaper Granma on the talks held in the afternoon on Friday indicates that both sides also discussed various issues of regional and international agenda.
It adds that previously the Sector Vice President of Political Sovereignty, Security and Peace, and Minister of the Popular Power of Venezuela for Foreign Affairs also met with Foreign Minister Bruno Rodríguez and the Cuban Foreign Trade and Investment Minister Rodrigo Malmierca.
Those meetings evaluated the bilateral agenda to strengthen political relations and are reviewed the implementation of the Convention Integral of cooperation Cuba-Venezuela, in particular new proposals for cooperation and trade between the two countries.
These meetings were useful to evaluate the bilateral agenda for the strengthening of the political relations and the Cuban-Venezuelan Collaboration Integral Agreement, was revised, especially the new proposals for trade and cooperation.
For the Cuban part Foreign Minister Bruno Rodriguez and Cuban Ambassador in Venezuela Rogelio Polanco were present.