Cuban President, Raul Castro, and his Austrian peer, Heinz Fischer, praised the positive state of relations between their countries, which this year celebrate their 70th anniversary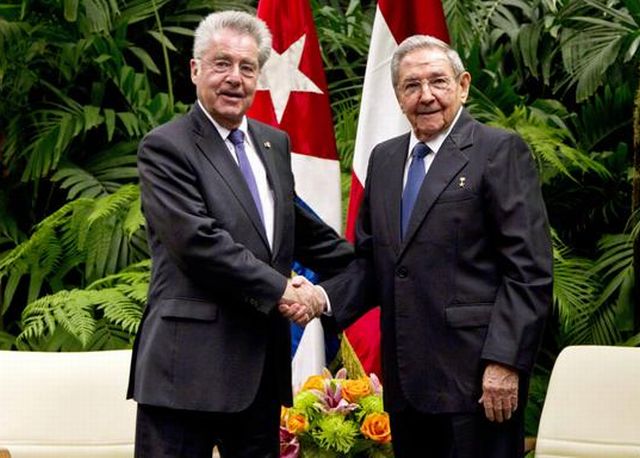 According to an official note released in Havana, the two leaders held a cordial meeting yesterday, during which they also discussed the gradual strengthening of the economic and trade ties, and cooperation.
They discussed issues of mutual interest on the international agenda, the text also stresses.
Fischer, on an official visit to the island, came accompanied by the Director of the Presidential Cabinet, Helmut Freudenschuss; the Chairman of the Parliamentary Group of the Social Democratic Party of Austria, Andreas Schieder; the President of the Parliamentary Group at the Austrian People's Party, Reinhold Lopatka; and the country's Ambassador to Cuba, Gerlinde Paschinger.
Council of Ministers' Vice President, Ricardo Cabrisas; Foreign Minister, Bruno Rodriguez; Minister for Foreign Trade and Foreign Investment, Rodrigo Malmierca; and the Director of International Relations department at the Parliament, Yolanda Ferrer, were present by the Cuban side.
Prior to meeting with the island's peer, Fischer laid a wreath to Cuba's National Hero, Jose Marti (1853-1895), in the sculptural complex at the Revolution Square in Havana.
The visitor also met yesterday with National People's Power Assembly President, Esteban Lazo, and opened a forum between business people from his country and the island's officials.
His visit to Cuba will conclude on Thursday, March 4, in which according to the official program, Fischer will give a lecture at the Main Lecture Hall of the Havana University, on the role of Austria in the European Union, and will visit the Museum of the Revolution.