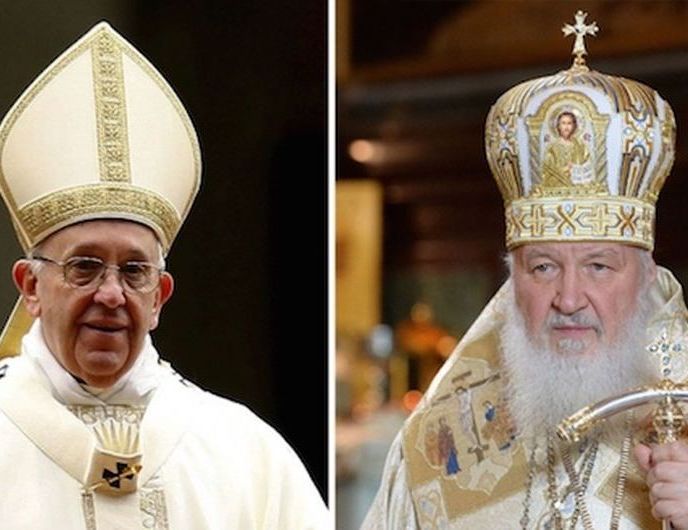 Pope Francis and Patriarch Kirill will hold today in Cuba the first ever meeting between the leaders of the Catholic and Russian Orthodox churches, the two largest Christian churches in the world.
The meeting will be held in the protocol hall at the "Jose Marti" International Airport in Havana, a place where the Bishop of Rome will stop on his way to Mexico, and where the Patriarch of Moscow and All Russia arrived in yesterday, on an invitation by President Raul Castro, for an official visit until Sunday.
Patriarch Kirill Praises Historical Ties between Cuba and Russia
His Holiness Kirill Pays Pastoral Visit to Cuba (+photos)
After Kirill's arrival, the Russian religious and Cuban leader, who received him at the airport, held a brief talk in one of the protocol halls of the air terminal.
According to a statement from the Patriarchate of Moscow, the religious leaders will talk for three hours about the relations between the two churches, the international context, and the defense of Christians in the Middle East and North Africa in view of the persecution and genocide.
At the end of that meeting, the two primates will sign a joint statement, the first since the occurrence of the great schism of Christianity in 1054.
Prior to the departure of Patriarch Kirill, the chairman of the Synod Department for Church-Society Relations and the Mass Media, Vladimir Legoida stated that the meeting in Havana was a "joint decision of the participants."
The meeting was listed by the Moscow Patriarchate as an important event and a sign of hope for the whole Christian community. In turn, the Pope expressed in an interview with Italian newspaper Corriere della Sera that two years of secret negotiations between Hilarion and Catholic bishops, who were responsible for the preparations, have passed.
"I said I wanted to see and embrace my Orthodox brothers," said Pope Francis, who stated that we should build bridges, step by step, up to shake hands with the other side.
The Ministry of Foreign Affairs of Cuba, a country chosen for the event, said the island is honored to host the meeting between the primates, and assured that it will provide all the facilities for the historic gathering.
The president of the Department of External Church Relations of the Patriarchate of Moscow, Metropolitan Hilarion, explained that the choice of Cuba responded that the Russian religious leader would not want to hold this meeting in Europe, for being a continent linked to the separation and conflicts among Christians.