The Patriarch of Moscow and All Russia, Kirill, said today that the meeting held in this capital with the Supreme Pontiff of the Catholic Church, Pope Francis, will be beneficial for the future of Christianism and human civilization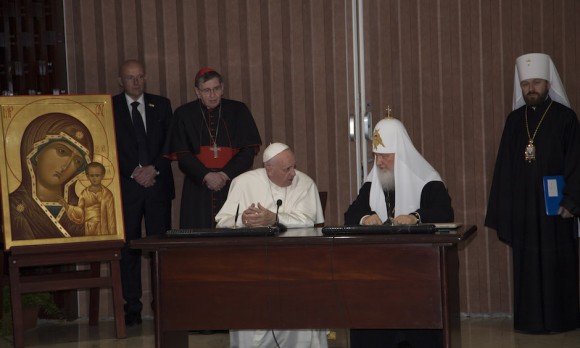 In remarks to journalists at the end of two hours of historic conversation with the Pope, Kirill explained that it was a conversation with a lot of content, whose results allow to state that from now on the two churches can join hands for the good of Christians worldwide.
It gave us the chance to understand and feel each other's views and positions, he added about the meeting, considered historic.
As a result of this meeting, Kirill and Francis signed a joint statement that marks common stands of the two churches on issues like moral doctrine, the right to life, the values and human rights.
In the text, the two religious leaders say that the Catholic and Orthodox, united not only for the common tradition of the Church of the first millennium, but also for the contemporary mission to preach for peace and brotherhood, must collaborate strongly for the good of humankind and give common testimony of their moral dignity and authentic freedom.
In this regard, the statement includes shared views, related to issues of political and religious topicality like the persecution and acts of genocide of which Christians in the Middle East and North Africa are victims, as well as the conflict in Ukraine.
At the end of this meeting, Pope Francis will continue ue his trip to Mexico for a pastoral visit through Feb.17 while Patriarch Kirill will continue his agenda in Cuba, including laying a wreath at the Mausoleum to the Soviet Internationalist Soldier, a visit to the Solidarity with Panama Special School and attending a concert of sacred music at the Marti Theater.
Patriarch Kirill is also scheduled to offer Divine Liturgy at Our Lady of Kazan Cathedral, erected in 2008 in recognition of the longstanding links of cooperation and friendship between the peoples of Cuba and Russia.