President Nicolas Maduro met Cuban Minister of Foreign Affairs, Bruno Rodriguez, who is concluding a two-day visit to the South American nation today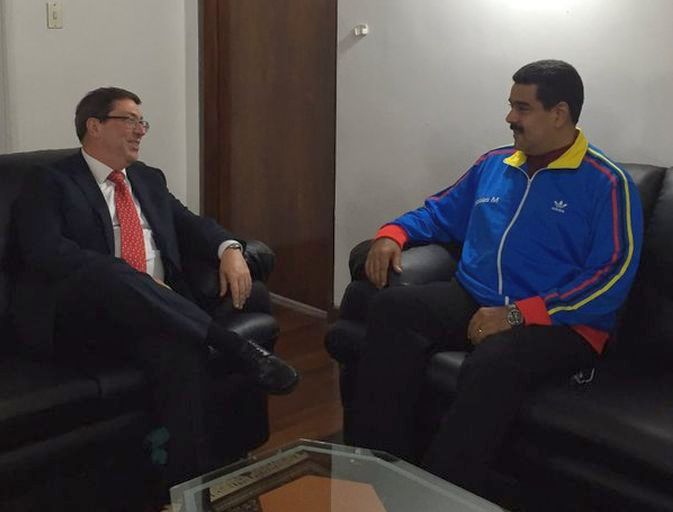 Maduro, who returned from a tour of Jamaica and Trinidad and Tobago, received the Cuban foreign minister and his accompanying delegation on Monday night. They discussed issues of common interest, a diplomatic source said.
Referring to the fraternal meeting, Venezuelan Foreign Minister, Delcy Rodríguez, posted on her Twitter account that 'Latin America united will never be defeated!'
The Cuban diplomat arrived in Venezuela on Sunday, May 22, with the aim of strengthening their bilateral agreements in politics, education, trade and cooperation.
Both ministers held official talks at the Yellow House (headquarters of the Ministry of Foreign Affairs), in which they reviewed issues of common interest.
As part of his visit, Rodriguez laid a wreath yesterday at the monument to Simon Bolivar in Caracas's main square.
He also tour of the Milagro de Dios Socialist Missions Base, in the Cristobal Rojas municipality, in the state of Miranda, to learn about the experience of the group of physicians who are working in the 'Barrio Adentro Mission'.
During these visits, Rodriguez was accompanied by Cuban ambassador to Venezuela, Rogelio Polanco, and the coordinator of the Caribbean island's missions, Victor Gaute.