Luiz Inacio Lula da Silva returned to the Brazilian Government today as the new chief of staff, amid a tense situation due to Judge Sergio Moro's abuse of authority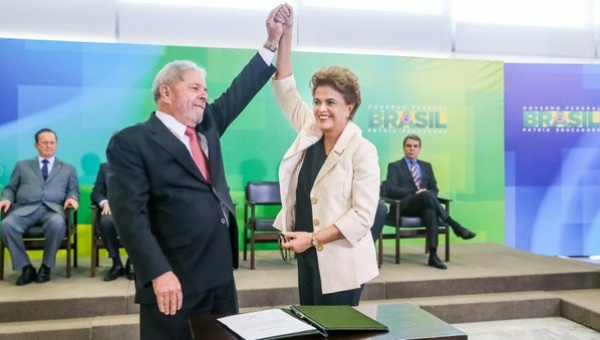 The former president of the Republic was sworn in at a ceremony scheduled for 10:00 hours, local time, at which other officials took oath as well, like Jaques Wagner as chief of the Personal Cabinet of the President; Eugenio José Guilherme de Aragao as minister of Justice, and Mauro Ribeiro Lopes, as secretary of Civil Aviation.
Lula's appointment was announced on Wednesday in an extraordinary issue of the Official Daily of the Federation, and his return to the Executive was described by President Dilma Rousseff as an event of great significance.
Lula will return to the Government with the necessary powers to help Brazil, said the head of State, who denied that he will have "superpowers" or that he had made demands to accept the post.
This is not the profile of President Lula, he does not act that way, she underlined.
Rousseff admitted that the former president has vast knowledge about the country and its needs, and has unequivocal experience, as well as the political capital of being a capable articulator.
She noted Lula's commitment to the country's strategic policies, fiscal stability and the control of inflation, as he showed during his eight years in office.
Regarding the fact that Lula's return to the cabinet might be linked to the alleged intention of protecting him from the investigations being carried out as part of the anticorruption operation Lava Jato, Dilma denied that that was the intention of appointing him.
She explained that the existence of the prerogative of privileges does not mean that the investigation will be suspended, but it will move from one agency to another: from the jurisdiction of Judge Sergio Moro to the Supreme Federal Court.