US airline JET BLUE announced it will start flights to Cuba on August 31, from the airport of Fort Lauderdale, Florida, until the Cuban city of Santa Clara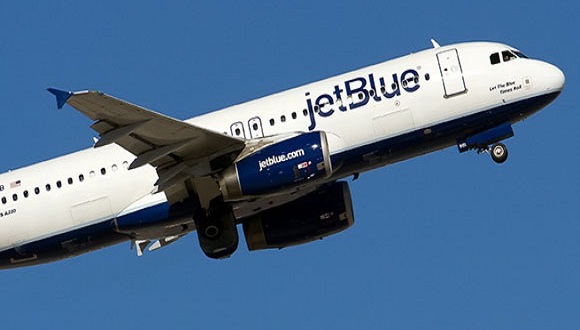 With this decision, Jet Blue turns into the first US commercial airline that initiates its commercial operations with Cuba for more than 50 years.
The announced bulletin this Thursday, explains that the cost of a passage for going to Cuba will be 99 dollars and the flights to the city of Santa Clara will be Mondays, Wednesday and Friday, until October 1, the day that will start the daily flights, service that also will be offered in Camaguey, from November 3, and in Holguín from November 10.
Jet Blue will initiate the route with the inaugural flight of August 31 to Santa Clara, and later on Silver Airways will join , which will fly to the same city from September 1 and American Airlines will do it on September 7 to Cienfuegos.
The cost of a passage for going will be 99 dollars, while the ticket of going and return will cost 210 dollars, including taxes and coverage of insurance of health needed by Cuba.
This is therefore the lowest tariff announced till now by a commercial airline that flies to the Caribbean island, if it was compared with the current prices of the chartered flights that range between 400 and 460 dollars.
Last July 7, the US government authorized eight commercial airlines to make flights to Cuba, in accordance with a bulletin of the US Secretary of Transport, Anthony Fox.
The airlines that obtained flights authorization are Alaska Airlines, American Airlines, Delta Air Lines, Frontier Airlines, JetBlue Airways, Southwest Airlines, Spirit Airlines and United Airlines.
The flights will detach Havana from airports of Atlanta, Georgia; Charlotte, North Carolina; Houston, Texas; Los Angeles, California; Newark, New Jersey; New York, and Fort Lauderdale, Miami, Orlando and Tampa, in Florida.
As a consequence of the political criminal of economic, commercial and financial blockade that Washington imposes Cuba for more than half a century, limitations exist for the US citizens to travel freely to the island, and at present they are subject to 12 trip categories, which exclude the tourist visits.