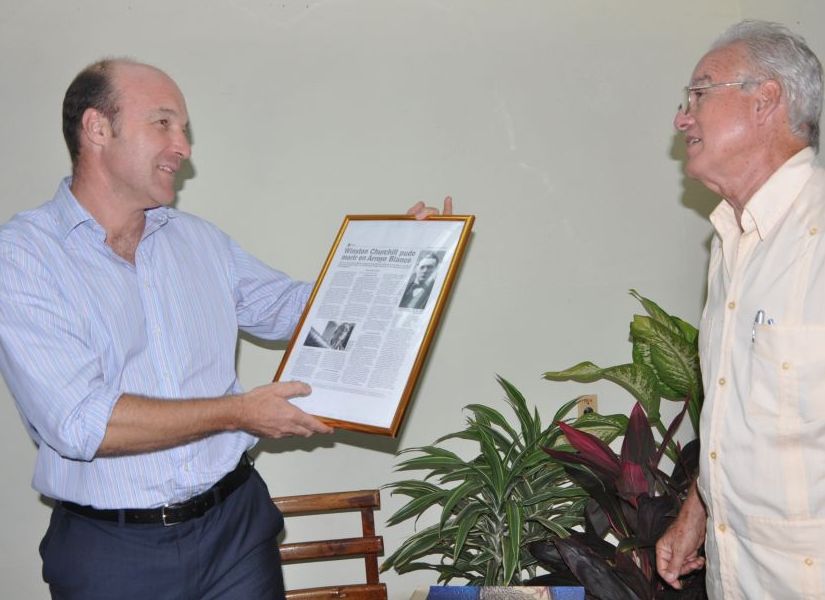 British Ambassador to Cuba, Tim Cole, visited the headquarters of Escambray newspaper, where he met with the staff
Without much protocol but with English punctuality, British Ambassador to Cuba, Tim Cole, reached the headquarters of Escambray newspaper this Wednesday, after having announced his visit on Twitter, a tool which he says has been very helpful for him to be updated.
Right upon arrival, he explained the purpose of his visit: He wanted to know how a regional newspaper faces the challenge of reaching global audience.
British Ambassador to Cuba Visits Escambray
During his conversation with the staff members, Cole knew about their productive routines, the ways they work out the journalistic materials and the reporters' perspective to turn local key issues into interesting materials for worldwide readers.
The British ambassador, who said he first knew about Escambray on Twitter, praised the online presence of the media and said he was attracted by the life stories and the articles that address interesting issues of everyday reality.
He confessed to admire the Cuban culture, particularly its music, and highlighted the world impact of the concert performed by the Rolling Stones in Havana last March. "What I admire most about Cuba is the Cuban identity and kindness of the people", he said before leaving.
Cole, who said to have worked as English ambassador in Cuba for "four wonderful years", was recipient of a framed replica of the reportage published in Escambray in 2012 under the title "Winston Churchill could have died in Arroyo Blanco", by journalist Pastor Guzman.