Members of the Inter American Masonic Confederation (CMI) laid a wreath Saturday on the monument that honors Cuban National Hero Jose Marti, at the Central Park of Havana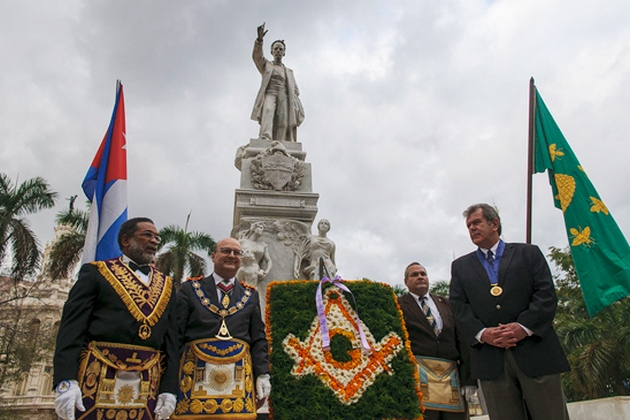 CMI President and Gran Maestre of Spain's Grand Lodge, Oscar Alfonso, said that the Cuban apostle (1853-1895) was the hero of the struggle for the independence and the universal Mason, when preaching with his principles, activating the universal and human values traced and promoted by the freemasonry.
"Due to that, we are pleased to pay tribute to his memory, his living example, and his influence in the formation not only of the Cuban masons, but in all the masons worldwide," said Alfonso.
Founded on April 14, 1947, the CMI is a non-profit organization formed by 77 "Big Masonic Powers" from 24 Latin American, Caribbean, and European nations, which join more than 400,000 masons.
The Freemasonry Executive Council meeting was held in Havana from February 24 to 26, and parallely, the annual meeting of its Zone II, formed by the Grand Lodges of Cuba, Haiti, Dominican Republic, Puerto Rico, Guadeloupe, Martinique, and France.