The third meeting of the Cuba-USA Bilateral Commission will be held on May 16 to review the development of relations between the two countries, the Cuban Foreign Ministry announced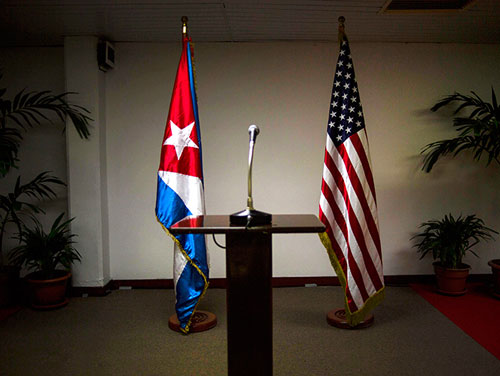 This working group, formed in the wake of the visit paid to Cuba by US Secretary of State John Kerry on Aug.14, 2015, held its first meeting on September 11 in Havana and a second meeting on Nov.10 in Washington D.C.
Gustavo Machin, Assistant Director for US Affairs in Cuba's Foreign Ministry (Minrex), said this will be a bright opportunity to review the agreements of the previous meeting.
The participants will also discuss other actions to be taken this year.
In this regard, he cited the holding of technical exchanges and the signing of cooperation agreements on issues of mutual interest, as well as high level visits and talks on topics of interest "on which we don't share similar views."
Machin said that Cuba will reiterate in the meeting the need for Washington to lift the economic, commercial and financial blockade on Cuba and the devolution of the territory illegally occupied by the US naval base in Guantanamo.
Cuba will also demand the end of policies detrimental to its sovereignty, the preferential migratory treatment to its nationals in the United States and the end of illegal television broadcasting.
The Cuban delegation will be led by Director of US Affairs of Minrex, Josefina Vidal, and the US party will be led by Kristie Kenney, advisor of US Secretary of State John Kerry.
Machin said that since December 17, 2014, there has been significant progress in the bilateral relations, despite the persistence of the blockade.
The most important results can be seen in the political, diplomatic field, with the three meetings between Presidents Raul Castro and Barack Obama and the latter's visit to Havana in March as highlights.
However, there has been no significant progress in the economic field due to the persistence of unilateral sanctions, in spite of the powers enjoyed by the White House chief to change the current situation.