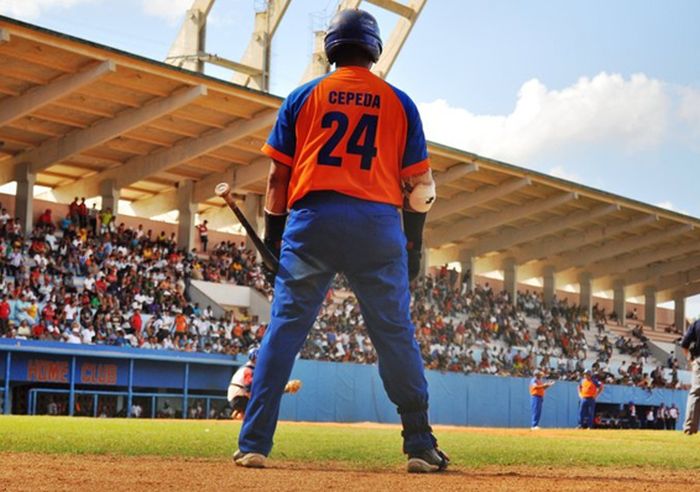 Outstanding baseball player Frederich Cepeda had to return from Colombia in order to undergo surgery on his right knee
Sancti Spiritus outstanding baseball player Frederich Cepeda underwent surgery on his right knee at Havana's Frank País Orthodepic Complex.
In a telephone interview with Escambray he said he was feeling well after the surgery received on the same knee he got operated in 2008: "On that occasion I had the meniscus reduced, and now it's been completely removed because the doctors said it was quite destroyed. The operation was a success, in fact, I feel pretty good, with natural discomfort after an intervention of this kind".
Nobody in the World will Stop me from Playing Baseball
Cepeda commented on the reasons for the operation a few days after returning from the Colombian league, which he joined early this year barely playing with the Tigres Claro de Cartagena team.
"That injure had been bothering me for some time, but during a game in Colombia it got worse, so I had to interrupt my contract and decided to do what the doctors had already recommended".
The multi-awarded outfielder had words of praise for the medical and paramedical staff that treated him in the health institution. "Like the last time, after several months of recovery, I can go back to the playing field", he said.
Eight years ago, Frederich underwent surgery in this same hospital so as to repair an injury of the posterior horn of the meniscus suffered since 2002.
About three months later he was able to participate in the Beijing Olympics, an event where he excelled as one of the best Cuban hitters: 308 average, 11 runs, two homers, five RBIs and 654 slugging.
Cepeda has been dogged by injuries. In 2013 he had to abruptly end the season with the Roosters (Los Gallos) due to a tendon luxation of the third finger of his left hand. He's also suffered injures on his shoulder, his elbow … Despite them; he's had a stable performance in all baseball campaigns and international events such as the 2009 and 2013 World Classics.
In 2015, Cepeda ended his two-season contract with the Yomiuri Giants in the Japanese Baseball League after being the first Cuban player to break into the Japanese professionalism. He was the MVP of the Caribbean Series, and was awarded the bronze medal at the Pan American Games of Toronto.