The possible recognition in Buenos Aires of the Operation Condor as a criminal association of dictatorships in Latin America generates interest in the press and socio-political media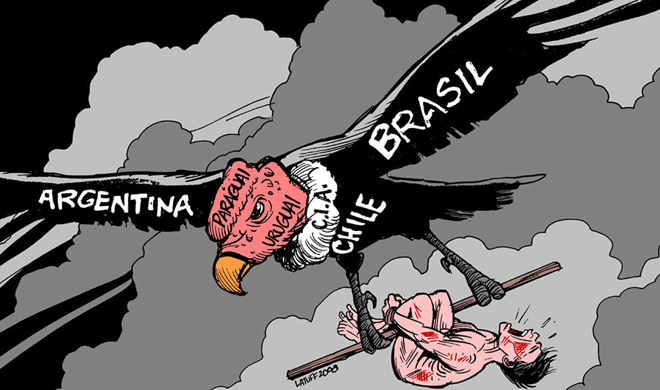 The ABC Color Journal in its digital edition says that if the sentence ruled today in the Operation Condor trial is favorable to the lawsuit, it would be the first time this operation is recognized as a criminal association of countries in South America to implement state terrorism in a coordinated manner.
Paraguayan citizens will be able to listen to the live broadcast of the reading of the verdict of the Operation Condor process, which has been carried out in Buenos Aires, Argentina for more than 17 years, and the embassy of Asuncion in Argentina will prepare a room to listen, as embassies in Peru, Brazil, Chile and Uruguay will do.
The Operation Condor trial in Buenos Aires is a historical case for justice and reparations for the victims of the reign of terror organized by the United States and implemented in several Latin American countries.
During the process, it was proved the existence of an association between the dictatorships of Argentina, Bolivia, Chile, Paraguay and Uruguay, to persecute, abduct and kill citizens in any of these countries.
It has been a long wait for the survivors of the dictatorships, for the families of disappeared people and human right movements in Argentina, said lawyer Luz María Padua of the Center for Legal and Social Studies, who represents several of the 105 victims included in this trial.
If the court accepts the hypothesis we are suggesting in the accusation, there will be a sentence that would refer to Operation Condor as an illicit association between dictatorships in Latin America, to carry out state terrorism in a coordinated manner and with a high toll on political opponents, she said.
It is a trial that will bring justice to different countries since the victims include 45 Uruguayans, 22 Chileans, 15 Paraguayans, 13 Bolivians and 10 Argentines.