Brazilian Senate approved today, with 55 votes to 22, the political trial against the president Dilma Rousseff for a liability crime, which according to her defense lawyer, she never committed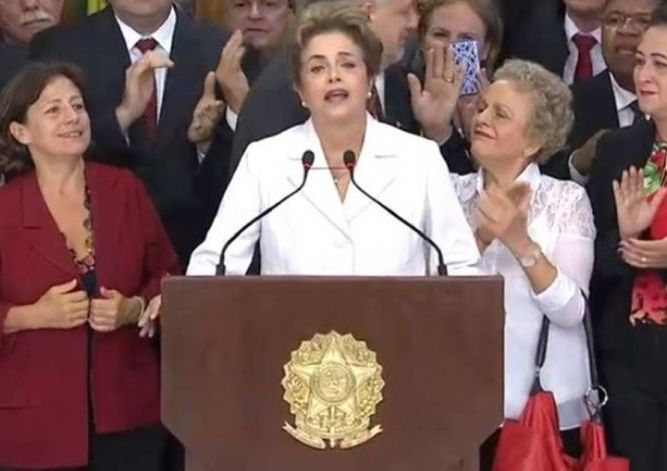 A thesis is being built, a rhetorical fantasy to remove from office a President democratically elected, denounced the head of the General Advocacy of the Union, José Eduardo Cardozo, prior to the voting on the impeachment request after a session of nearly 18 hours of speeches.
Cardozo reiterated the reasons he used since the admissibility of the complaint in the Chamber of Deputies began to be analyzed. Among them, the fact that the six additional decrees issued by Dilma did not alter the fiscal goal of the year.
Since the beginning, the Legislative was marked by an original sin: the threat and blackmailing practiced by the former president of the Chamber of Deputies Eduardo Cunha, he highlighted.
After the vote and its being formalized, the head of the Federal Senate, Renan Calheiros, explained that corresponds its first secretary Vicentinho Alves to deliver the head of state the intimation in which she is informed of the establishment of the impeachment process.
Subsequently, the Vice-President Michel Temer will be informed and will assume the leadership of the Executive for the period up to 180 days that the prosecution of the president will last.
Calheiros further reported that this afternoon the Senate Board will meet with the head of the Supreme Federal Tribunal, Ricardo Lewandowski, who will chair the Senate for the purposes of this impeachment.
In addition, the head of the special commission of impeachment, Raimundo Lira, the rapporteur Antonio Anastasia as well as party leaders will also participate in the meeting. For the request for impeachment against the head of state to be admitted, the view of the rapporteur must receive the affirmative vote of a simple majority of the 81 legislators.
But in the final stage of the process- when it will be defined if Rousseff is guilty or not of the offence charged- the support of two thirds of the camera, that is, 54 votes, is required.