The five Cuban fighters against terrorism, and the also Hero of the Republic of Cuba, Colonel Orlando Cardoso, and relatives today concluded a visit to Russia in compliance with an invitation of the State Duma (Lower House)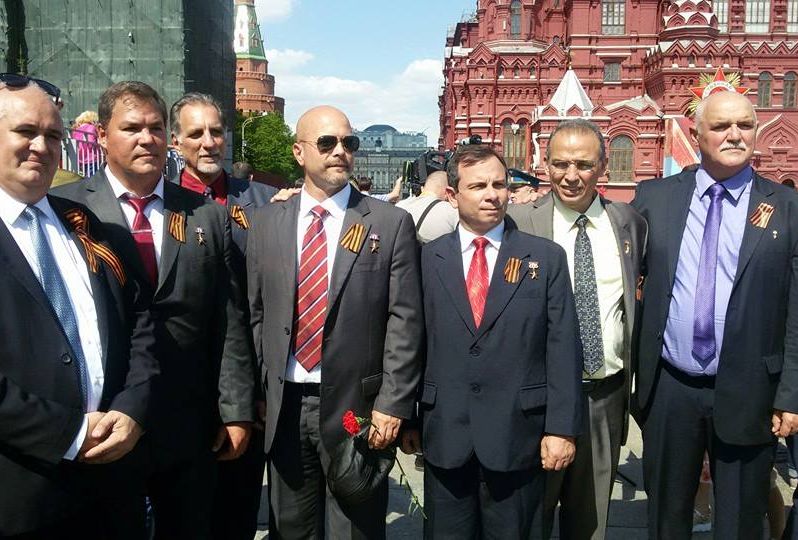 After extinguishing long sentences in the United States for trying to prevent violent actions against their country, Gerardo Hernandez, Ramon Labañino, Fernando Gonzalez, Antonio Guerrero and Rene Gonzalez traveled along with Cardoso and relatives to Moscow to express gratitude for the solidarity that contributed to their release.
The six heroes and Cuba's ambassador to Russia, Emilio Lozada, were awarded yesterday with the Brother Peoples Union medal, conferred by the Union of Communist Parties of the former Soviet Republics.
Guennadi Ziuganov, chairman of the political organization in the Communist Party of the Russian Federation (CPRF), conferred the medal to them.
The attendance of this delegation to the parade at the Red Square on occasion of the 71st anniversary of the victory over fascism, on May 9, and the meetings with top-level authorities reaffirmed the importance that Moscow and Havana have granted to those bilateral relations.
During the first working day in Russia after the celebrations of the Victory Day, the Cuban Five and Cardoso were welcomed by Foreign Minister, Sergei Lavrov, in a "fairly unusual meeting by the minister," at the headquarters of the Ministry of Foreign Affairs, the ministry's spokeswoman, Maria Zajarova, stated.
They also held meetings with the chairman of the Duma, Sergei Naryshkin, and vice president of the parliamentary body, Ivan Melnikov.
They also talked with one representative of the Federation Council (Senate) and representatives of the parliamentary group of the CPRF.
Another important expression given to the bilateral ties and the lasting friendship between the two peoples were the awards to the Cuban Five (the medal for the 70th anniversary of Victory), Cardoso for the End of the Great Patriotic War (1941-1945); as well as the annual People's Word award, to Antonio Guerrero.
During the last day of activities in Russia, the delegation held a wreath at the monument to the Unknown Soldier in honor of those fallen in the feat over the fascist invaders, and also paid tribute to Vladimir Ilyich Lenin, leader of the 1917 October Revolution.
Accompanied by Melnikov and ambassador Lozada, the visitors complied at the foot of the Kremlin walls and the mausoleum with the same ritual of high international personalities in this kind of tributes.
In statements to Prensa Latina shortly before leaving, Gerardo Hernandez reiterated that like the rest of the delegation, he will remember forever the privilege of attending the Victory parade at the Red Square and the warm expressions of friendship, evidenced in all official and informal meetings with hundreds of people.