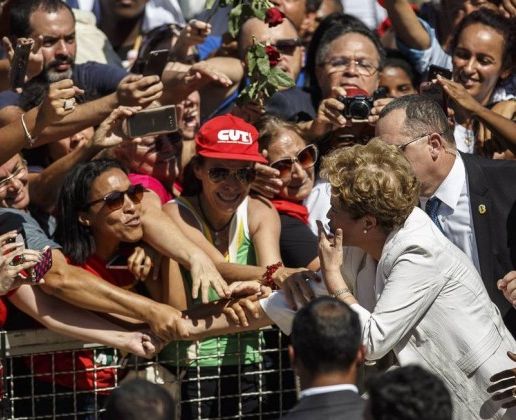 The government of Cuba reierated its solidarity with Brazilian President Dilma Rousseff (Workers Party, PT) and the people of Brazil because of the parliamentary-judicial coup against her
STATEMENT OF THE REVOLUTIONARY GOVERNMENT OF CUBA
The Revolutionary Government of Cuba has repeatedly denounced the parliamentary-judicial coup disguised with legality, taking place in Brazil. Today, a very fundamental step was taken by the coupists.
Most of the Brazilian senators decided to continue the process of political trial against the President according to the laws of Brazil, Dilma Rousseff, and with it, to separate Rousseff 'provisionally' from the post, for a period of up to 180 days, in which the Senate must decide, by means of the vote of two thirds of its members, the definitive removal from office.
It is a question, in fact, of a device armed by sectors of the oligarchy in this country, supported by the big reactionary press and the imperialism, with the intention of reverting the political project of the Workers Party, to demolish the legitimate government and usurp the power that they could not have won with the electoral vote.
What happens in Brazil is a part of the reactionary counter-offensive of the imperialism and the oligarchy against the revolutionary governments and progressives of Latin America and the Caribbean Sea, which threatens the peace and stability of the nations, violating the spirit and the letter of the Proclamation of Latin America and the Caribbean Sea as Area of Peace, signed in the 2nd Summit of the CELAC in January, 2014, in Havana by the Heads of State and Government of the region.
As it is expressed by the President of the State Council and Ministers Council in the Republic of Cuba, Army General Raul Castro Ruz, in the closing day of the 6th Ordinary Period of Sessions of the National Assembly on December 29,'history is showing us that when the rightwing comes to power, and takes the governments, does not doubt in dismantling social policies, benefit the rich, establish neoliberalism and apply cruel therapies against workers, young people and women."
The people of Brazil, the leftwing political forces and the combative social movements are rejecting this coup and will be opposed to any attempt of dismantling the important social programs created by the leftwing governments, with Lula and Dilma heading them, programs such as Bolsa Familia, Mas Doctores (More Doctors), Mi Casa, Mi Vida (My Home, My Life), Hambre Cero (Zero Hunger) and others that have changed the life of millions of people in Brazil.
Dilma, Lula, the Workers Party and the people of Brazil count and will always count on the solidarity of Cuba.
Havana, May 12, 2016.