Cuban Minister of Foreign Trade and Foreign Investment, Rodrigo Malmierca, begins this Monday a four-day working visit to the U.S.A., which includes meetings with officials and business people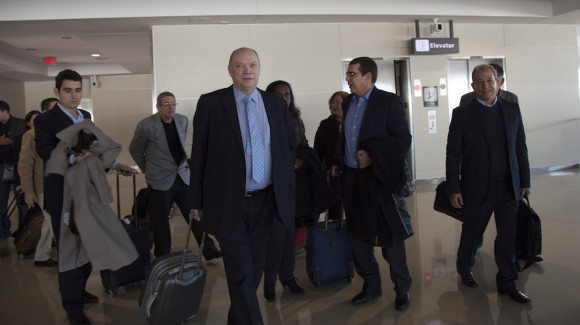 The agenda of the Cuban minister, the first in office visiting this country in more than 50 years, also includes meetings with politicians and academicians, in the context of rapprochement between Havana and Washington, as of the decision announced in December 2014 by Presidents, Raul Castro and Barack Obama, to advance towards the normalization of relations.
According to details of his agenda, Malmierca will be received by U.S. Secretary of Commerce, Penny Pritzker, and they will open the second meeting among officials from the two countries, aimed at discussing the scope of Obama's executive measures, to modify the blockade to the island for more than five decades.
The secretary traveled in October to Cuba, where the first meeting of its kind, scene for discussion about the potentialities and limitations of measures to ease the web of rules and U.S. actions against the Caribbean island, siege become a law of the Congress, was held.
The visitor will hold tomorrow exchanges of views with members of the Chamber of Commerce, an entity that set up in September a U.S.-Cuba Business Council (USCBC) to boost business opportunities and remove barriers, so it will work with the Capitol and other sectors.
Malmierca will talk in this capital with the newly elected leader of the USCBC, Carlos Gutierrez.
The minister's visit and changes in the U.S. regulations generate unprecedented opportunities for both countries, particularly on travel and the increase of small business, said Gutierrez, who was Secretary of Commerce under the Presidency of George W. Bush, from 2005 to 2009.
Malmierca arrived in here yesterday leading a delegation, comprising of representatives of the Chamber of Commerce, the Ministry of Foreign Affairs, the Central Bank, and companies from the Caribbean island, and they were welcomed at Dulles International Airport by the Cuban ambassador to Washington, Jose Ramon Cabañas.
Since last year, the two governments have made progress in areas of mutual interest, and among them post, civil aviation, fighting drug trafficking and other crimes, scientific cooperation, and environmental issues.
However, Cuba insists that for the full normalization of bilateral ties, the United States should lift the blockade, return the territory of Guantanamo occupied by a naval base, suspend illegal radio and television programs, and the rest of activities aimed to destabilization and regime change.