Executive Vice President and Head of International Affairs at the U.S. Chamber of Commerce, Myron Brilliant, met today with Cuban Minister for Foreign Trade and Foreign Investment, Rodrigo Malmierca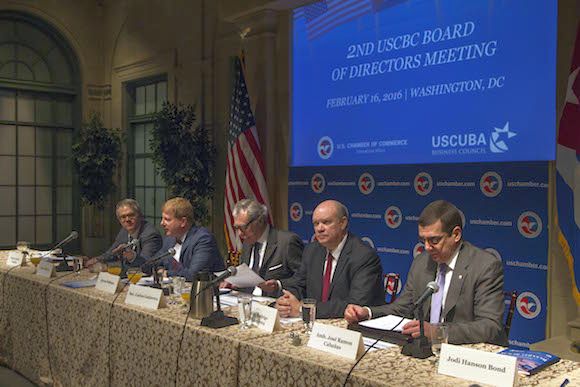 Malmierca arrived at the headquarters of the organization accompanied by the island's ambassador to Washington, Jose Ramon Cabañas, President of Cuba's Chamber of Commerce, Orlando Hernandez, and officials from the Ministry of Foreign Affairs, the Central Bank, and companies from the Caribbean nation, a delegation that complies since yesterday with a working four-day visit to this country.
In addition to Brilliant, vice president of the Americas at the Chamber, Jodi Bond; and former Secretary of Commerce, Carlos Gutierrez, leading the U.S.-Cuba Business Council, welcomed the visitors.
In the institution, which represents the interests of more than three million U.S. businessmen, Malmierca and his accompanying delegation fulfill a comprehensive program that includes meetings with businessmen from several sectors.
It is expected that the Cuban minister will meet today with the president of the Chamber of Commerce, Thomas Donahue.
Orlando Hernandez told Prensa Latina that the delegation of the island will hold exchanges with representatives of leading companies in tourism, biotechnology, machinery, and food industry, among other sectors.