Army General Raul Castro, president of the councils of State and Ministers, received the Prime Minister of the People's Democratic Republic of Algeria, Abdelmalek Sellal, who is on an official visit to Cuba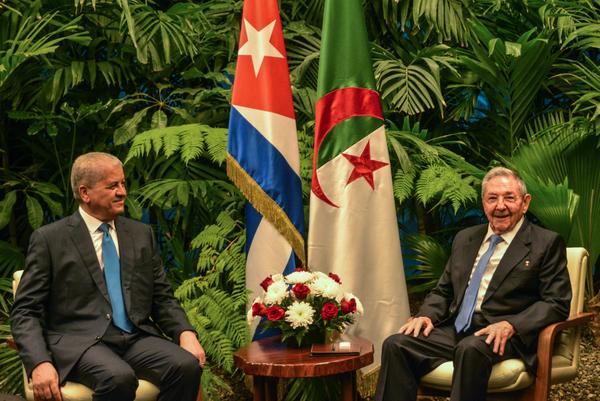 Fidel Castro Meets with Algerian PM Abdelmalek Sellal
In a fraternal atmosphere on Thursday afternoon, the two leaders
coincided in highlighting the excellent state of bilateral relations and ratified the willingness of their respective governments to continue strengthening the historic bonds of friendship and solidarity uniting the two nations. Likewise, they spoke about topics of interest on the international agenda.
Accompanying the distinguished visitor were Ramtane Lamamra, minister of State and Minister of Foreign Affairs and International Cooperation; Abdelmalek Boudiaf, minister of Health, Population and Hospital Reform; and M'hmed Achache, ambassador to Havana.
Cuba was also represented at the meeting by Ricardo Cabrisas,
vice-president of the Council of Ministers and Minister of Planning and the Economy, as well as Bruno Rodriguez, Roberto Morales and Rodrigo Malmierca ministers of Foreign Affairs, Public Health, and Foreign Trade and Investment, respectively.