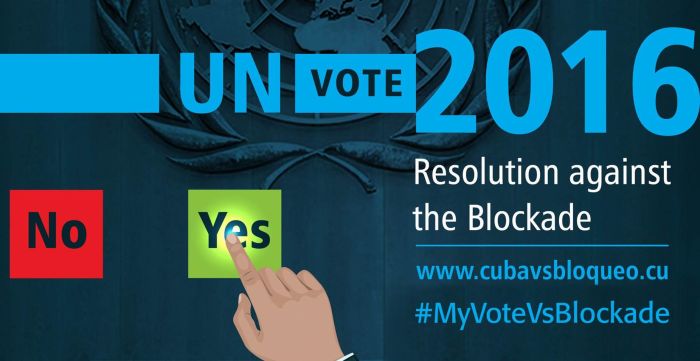 Once again the international community will support Cuba when it submits on Wednesday at the United Nations General Assembly the resolution "Need to put an end to the economic, commercial and financial blockade imposed on Cuba by the United States of America."
Sancti Spiritus Women Denounce US Blockade against Cuba
The condemnation to the criminal policy has been over the last 24 years a constant at the world organization, and an expression of how unanimous it has been was verified in 2015 when 191 nations condemned it with their vote, while its only two opponents, Washington and Tel Aviv, suffered a total isolation and a defeat.
That is why it is not strange that together with the fair demand of a
people that has been for over five decades withstanding that economic war, the main obstacle to is development and quality of life, the voices of solidarity of dozens of representatives of governments in support of Cuba raise on Wednesday at the UN headquarters in New York.
As underlined by the Prensa Latina news agency, at the end of September, some 40 presidents, prime ministers and foreign ministers took advantage of the opportunity to address the world during the annual high level debate of the General Assembly to defend the end of the blockade, the economic damages of which have been estimated at 753.6 billion dollars.
As long as it exists, we will continue presenting at the UN the
resolution that condemns it, Deputy Foreign Minister Abelardo Moreno recently told the press in Havana, in addition to pointing out that, although the process towards the normalization of relations with the United States has introduced positive changes in that interaction, the siege continues.
International solidarity with the Caribbean island for the elimination of the criminal policy has also been felt with great strength in parliaments, social and religious organizations, political parties, and movements of workers, farmers, students and women; in many forums and in the voices of different personalities.
Over the last few days, at political rallies, public hearings and
meetings in neighborhoods, workplaces and schools, and by way of the press and social networks, the Cuban people has requested Barack Obama that instead of issuing presidential directives or new packages of measures he should turn to all his prerogatives to put an end to the blockade.
On December 2, 2005, on the occasion of the 30th anniversary of the Cuban Military Mission in Angola and the 49th anniversary of the Granma yacht landing, Day of the Revolutionary Armed Forces, Commander in Chief Fidel Castro expressed:
"We will continue withstanding the consequences of the blockade, which some day will be defeated by the dignity of Cubans, the solidarity of the peoples, and the almost absolute opposition of the governments of the world –as voting at the UN has demonstrated once again-, and also by the increasing condemnation of the U.S. people to that absurd policy that flagrantly violates their constitutional rights."