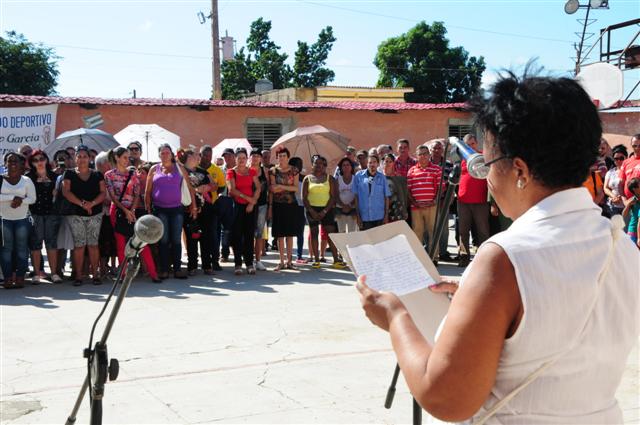 Members of the Federation of Cuban Women (FMC) in Sancti Spiritus mobilized this Sunday all over the province to denounce the damages caused by the economic, commercial and financial blockade imposed by the U.S.A., and the real background of this government's recent policy towards the island.
Belkis Diaz Jimenez, general secretary of the organization in this territory, told Escambray that it won't be possible to speak of normal relations between the two countries if, among other things, there's this the genocidal policy of the US economic siege, the damages of which amounted to more than 753 billion dollars between April 2015 and the same month this year.
When referring to the presidential directive signed by US President Barack Obama last week, Diaz Jimenez stated that although the document acknowledges that the Cuban government is a legitimate and serious interlocutor, it does not hide the aim of bringing about changes in the economic, social and political order in the Caribbean nation. There lies the interventionist nature of this directive, said the female leader.
Several other women from different sectors raised their voices to  criticize the consequences of the US blockade on different branches such as health and education, and urged the international community to vote next October 26, at the United Nations, in favor of the resolution entitled "Necessity of ending the economic, commercial and financial embargo imposed by the United States of America against Cuba".