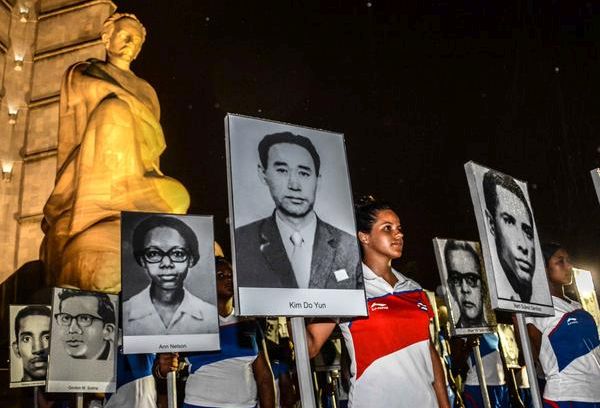 Like every year, Cubans remember the victims of the terrorist attack on a Cubana de Aviacion plane, by which  73 innocent people were killed
Cubans remember the victims of the terrorist attack on a Cubana de Aviacion plane – flight CU-456, a crime that 40 years ago, on October 6th 1976, cut short the lives of the 73 people on board.
The tribute to the victims began yesterday with a vigil at the memorial to National Hero Jose Marti in remembrance of the attack that motivated the historical leader of the Cuban Revolution, Fidel Castro, to say at the time that the pain of the people would make 'injustice tremble'.
Relatives of the deceased and different sectors of the Cuban population will also take part in a traditional march to Colon Cemetery, which takes place every year to honor the memory of those who died off the coast in Barbados and to condemn the attack.
Fifty-seven Cubans, mostly the members of the Cuban fencing team returning from the Central American and Caribbean championship in Caracas, Venezuela, as well as five North Koreans and 11 Guyanese who were traveling to Cuba to study medicine, lost their lives in the evil act, orchestrated by Orlando Bosch and Luis Posada Carriles.
Venezuelans, Hernan Ricardo and Freddy Lugo, were responsible for placing the explosives on the airplane under orders of Cuban-born terrorists, Bosch and Carriles, causing an explosion on board shortly after takeoff from Barbados airport.
Cuba continues to denounce the impunity of the masterminds of the event. They were never tried for the crime although there is irrefutable evidence of their connection to the attack.
The international community, mainly Caribbean nations, support Cuba in its complaint against the terrorist attack, especially since, as Cuban intellectual, Ricardo Alarcon said, the crime of Barbados is an act of aggression against all the countries of the region.
The embassy of the Cooperative Republic of Guyana in Cuba recently unveiled a sculptural monument at its offices in Havana to pay tribute to the victims of the crime.
The Cuban Council of State declared in 2010 that October 6th would be the Day of State Terrorism Victims, in annual remembrance of the more than 3,478 Cubans who have lost their lives in these kind of crimes.