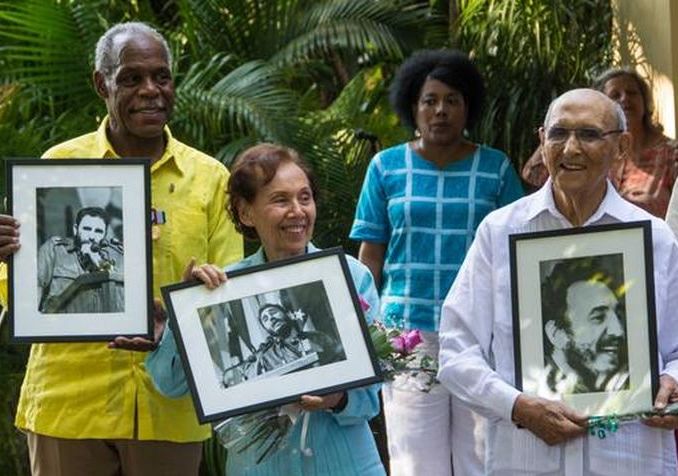 The Cuban State Council granted the National Medal of Friendship Thursday to documentary filmmakers Estela and Ernesto Bravo and US actor Danny Glover for their solidary support to the Cuban government and people
In an activity held Thursday morning at the host building of the Cuban Institute of Friendship with Peoples of the World (ICAP) Cuban antiterrorist fighter and member of the Cuban Five Gerardo Hernandez stated that it is an honor to watch such a moment to decorated three great friends of Cuba with such a medal.
The decorated friends of Cuba received the medal from the hands of Jose Ramon Balaguer, member of the Secretariat of the Cuban Communist Party, and director of its International Relations Department.
Ernesto Bravo said he felt moved, since as much himself, as Estela Bravo, have strong links with Cuba, where they decided to set their lives for more than 50 years.
Estela Bravo said that in Cuba, she received several surprises, as for instance, to know Fidel Castro, and that the main reason for which she has been doing her work, is for other people to see and live all the things she had the pleasure to live.
For his part, American actor Danny Glover referred to the struggle for the return of the Cuban anti-terrorist fighters, whom he recognized for their dedication to the Cuban government and people.
Also, he stressed the role of the new generations in the conduct of the future of the Cuban revolutionary project and recalled the meeting of nearly two hours held in yesterday afternoon with young Cuban at the host of the Asociación Hermanos Saíz.
'We are here not only to support the Cuban Revolution, but also to support the values that this has taught us, he concluded.
In the event of decoration, there were different political and cultural personalities of the country as the Minister of Culture, Abel Prieto; the President of the Union of Writers and Artists of Cuba, Miguel Barnet; and the Director of the General Direction of the United States of the Ministry of Foreign Affairs, Josefina Vidal.