Cuban Foreign Minister Bruno Rodriguez and his Ethiopian counterpart Tedros Adhanom Ghebreyesus favored the strengthening of the bilateral ties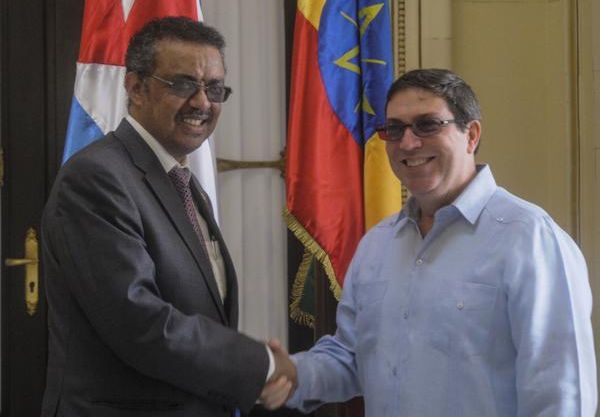 The two officials met at the headquarters of the Cuban Foreign Ministry. They agreed to develop those ties and stressed their governments' will to boost them.
During the meeting, Adhanom Ghebreyesus expressed his gratitude and pride for the fraternal relations that unite Cuba and Africa, and especially with his country.
He also thanked the Cuban cooperation in the fight against Ebola virus in several West African countries, and the collaboration with his country in areas such as health, education, science, technology, and sugar industry.
Meanwhile, Rodriguez said Cubans are proud of their relations with Africa, in particular with Ethiopia, which have solid foundations, satisfactory results and great potential.
Rodriguez also recognized the progress noted by the African Union and throughout Africa. Ethiopia shows encouraging progress and the efforts of the Ethiopian people and government boost the national economy despite difficult international conditions, he added.