Hillary Clinton beat Donald Trump in their second presidential debate, according to a survey of Politico and Morning Consult, while new WikiLeaks revelations threat her career to the Oval Office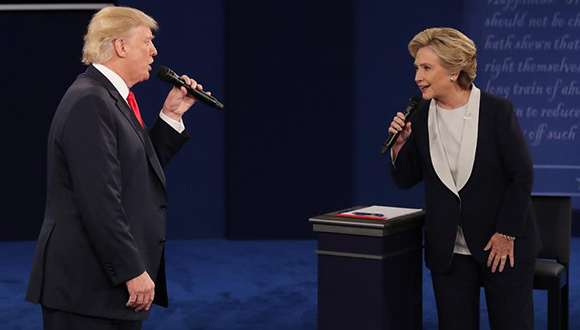 According to the survey, 42 percent of voters felt that Clinton won the confrontation on Sunday, including 30 percent of Republicans polled, while 28 percent felt better Trump.
Still, 80 percent of respondents denied that the debate at Washington University in Saint Louis, Missouri, made them change their minds about whom they would vote on 8 November.
According to the study, a large majority considered racist, sexist and oblivious to the real concerns of the average American Trump, but more than half of the respondents think that Clinton is corrupt and secretive lover.
This survey was conducted to two thousand and one registered voters, the margin of error is three percent, and is in line with the results of previous surveys, developed by CNN or YouGove, who saw Clinton as the winner.
On the other hand, Hillary Clinton's career to the Oval Office today faces a massive new filtration WikiLeaks more e-mails from John Podesta, chief of staff of the White House under President Bill Clinton.
The digital portal published 190 thousand emails Podesta, old adviser to the Clinton family, in what Democrats consider a foreign strategy to favor Republican presidential Donald Trump in the next month.
The former Secretary of State specifically Russian government blamed the recent cyberattacks, during his second debate against Trump, last Sunday, a charge systematically rejected by the Kremlin.
WikiLeaks leaked last Friday and yesterday two separate packages emails that made it clear to Clinton, including some incriminating rapprochement with Wall Street before leaving the secretariat of state.