The leader of the Cuban Revolution, Fidel Castro, and China's Prime Minister, Li Keqiang, have agreed on the need to preserve human life and peace in a fraternal meeting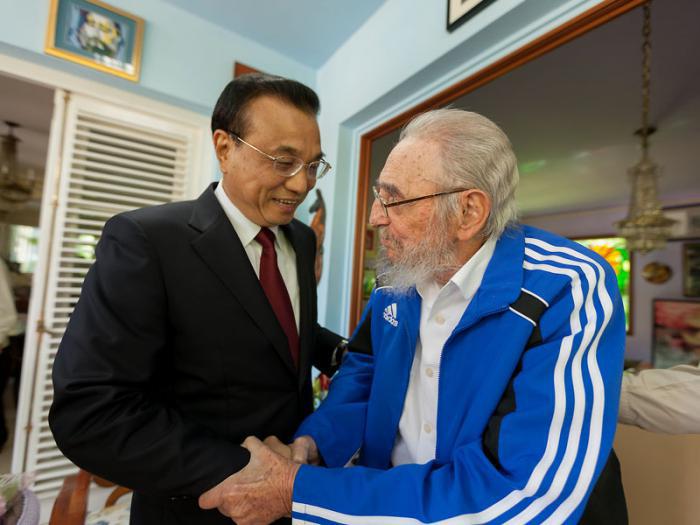 An official statement, released today, says that in a lively dialogue on Sunday afternoon, the Chinese head of government expressed satisfaction with his first visit to Cuba. He also expressed his admiration for Cuba, for its patriotism and its achievements.
Both countries recalled the historic ties between the two nations, symbolized in the participation of Chinese fighters during the wars of independence and liberation, and the establishment of diplomatic relations more than five and a half decades ago, when the socialist nature of the Revolution had not yet been declared, the document added.
The two leaders also agreed on their assessment of the international situation, complexities, dangers and challenges and the need to preserve human existence and peace.
Fidel and Li Keqiang expressed confidence that the visit would strengthen cooperation and friendship between the parties, governments and peoples.
According to the official statement, the leader of the Cuban Revolution talked about the promotion of food production and other valuable items outside of tourism revenues and other sources for development.
The report also states that Commander Fidel, who has repeatedly studied the dangers threatening the current world's population due to the infamous economic order imposed on the world by the United States, conveyed to the illustrious visitor his views, aware that China and Russia have similar interests in peace.
After remarkable economic and social progress, peace and friendship are the most important task of the People's Republic of China, under the leadership of President, Xi Jinping, and Premier Li Keqiang, said Fidel, who was very happy after the meeting.
The head of the Chinese government is on an official visit to Cuba, as part of which, he was also received by President, Raul Castro.