Cuban Foreign Minister Bruno Rodriguez today received US Secretary of State, John Kerry, who is accompanying President Barack Obama in his visit to Cuba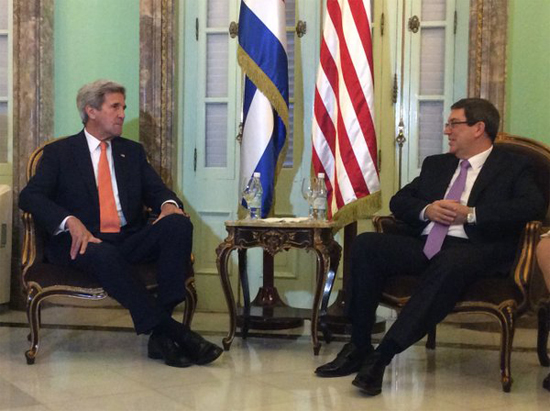 The Cuban Foreign Ministry tweeted this information along with a picture of the meeting between Rodriguez and Kerry.
The meeting is part of the activities carried out in the context of the stay of US president, who arrived yesterday in Cuba with a large delegation, which included senior officials, congressmen and businessmen.
Rodriguez and Kerry held a meeting in the US on July 20th, 2015, when Cuba and the United States reestablished diplomatic relations and Cuba reopened its embassy in Washington.
They met again in Havana on August 14th, when the US embassy was opened.
On March 5th, Rodriguez and Kerry talked on the phone about Obama's three-day official visit to Cuba, which is the first visit of a US president to the island in nearly 90 years.