President Evo Morales thanked the people, the Pachamama (Mother Earth) and all religious sectors of the country, the support they have offered to his mandate for 10 years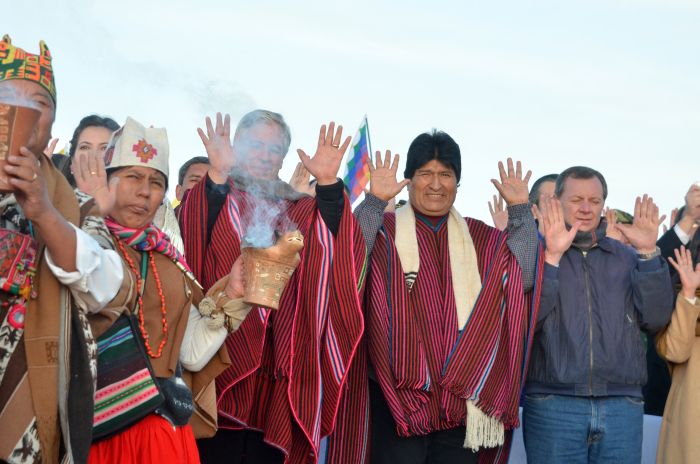 "I want to thank you for your support during those 10 years. Along with Vice President, Alvaro Garcia Linera, we never feel abandoned by the social movements, indigenous or native peoples," stressed Morales shortly after receiving the approval from the "amautas" -wise men- from the archaeological city of Tiahuanaco.
Morales added that thanks to those social, indigenous peasants and the people in general, the Cultural Democratic Revolution could aim and strengthen.
Dressed in a suit containing original elements, the president was confirmed as a leader of the indigenous peoples, prior to the official celebration at the Parliament of his inauguration as president on January 22, 2006.
"We came here to this holy land after 10 years, a cultural and spiritual center of Tiahuanaco, to express our deepest gratitude. Thank you for your support," he said.
With the united and organized people, "everything is possible brothers and sisters to pursue the development of our beloved Bolivia," he said.
The first indigenous president in the history of the country, also thanked for their support of the representatives of the Catholic, Evangelist, Methodists churches, the Pachamama and "amautas" for their rites and prayers authorities profess.
On October 21, 2015, Morales emerged as the president with greater presence in power in the history of Bolivia with nine years, eight months and 27 days in office, surpassing the time of administration of Marshal Andres de Santa Cruz (1829-1839).
Morales will exactly mark tomorrow 10 years in office, a fact that will be held together with the people, the ministerial cabinet and the Plurinational Legislative Assembly, where he will present a report of its mandate.