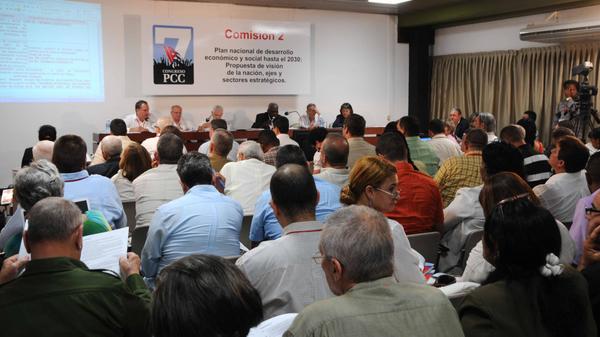 The 7th Congress of the Cuban Communist Party (PCC) today includes the work in four committees of a thousand delegates, who will discuss the country's strategies for building a prosperous and sustainable socialism.
This significant event, which will run until April 19, began this Saturday with the presentation of the Central Report by the First Secretary of the Cuban Communist Party, Army General Raul Castro.
Cuba Favors Civilized Coexistence with US, Says Raul Castro
In the context of the congress, one of the working committees will analyze the conceptualization of socialist economic and social model, while the rest will address the country's development plan until 2030, the nation´s vision and the implementation of the guidelines approved at the 6th Congress of the PCC as well as its update for the next five years.
Among other issues, Raul Castro proposed to the 7th Congress to set at 60 years the maximum age to enter the Central Committee and until 70 years to hold management positions in the Party.
This, combined with the limitation of up to two consecutive terms to take political responsibilities, will ensure, from the base, the systematic rejuvenation throughout the partisan system, he said.
In the international sphere, Raul Castro presented the elements that hamper the process of normalizing ties with Washington, reiterated the demands of the island and ratified the willingness to build a new relationship with the United States, based on the art of civilized coexistence and without giving up the sovereign principles.
He also thanked the international solidarity received by the Cuba and reaffirmed its support for all revolutionary and progressive governments, pointing out the need for progress in the consolidation of the Community of Latin American and Caribbean as a regional mechanism for political cooperation.