Vietnam President, Truong Tan Sang, and his accompanying delegation comply in Cuba with an extensive program that includes official talks with his peer, Raul Castro.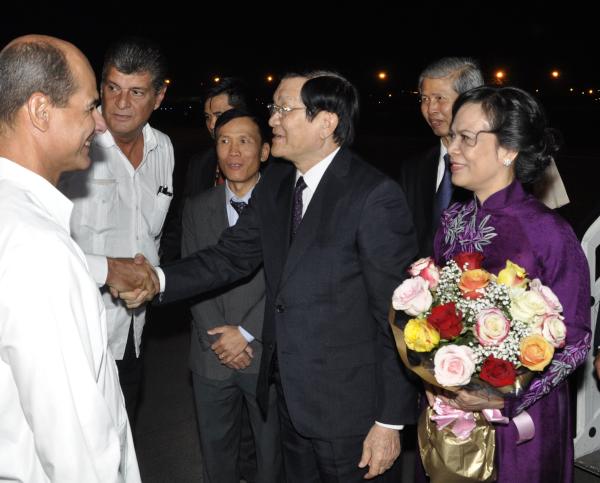 The official view of the head of Asian State will be run until tomorrow, and his main objective is to further strengthen the bonds of friendship, solidarity, and fraternity between the two nations, the president told reporters on his arrival in the island.
Cuba and Vietnam have a friendship founded at the time of the resistance of the Vietnamese people, by Uncle Ho (President Ho Chi Minh) and Fidel Castro, the historic leader of the Cuban Revolution, the visitor recalled.
As part of his program of activities, the statesman will be awarded with the Jose Marti Order, the highest decoration granted by the Council of State of the Republic of Cuba.
Tan Sang will also meet with other Cuban authorities, such as Cuban People's Power National Assembly (Parliament) President, Esteban Lazo.
He will also pay tribute -with offerings- to Cuban National Hero, Jose Marti, and Vietnamese Ho Chi Minh.
In the context of his stay on the island, the Vietnam-Cuba Business Forum will be held on Wednesday, Sept. 30, at the Hotel Nacional in this capital.
Cuba and Vietnam established relations on December 2, 1960 and their bilateral relations are excellent.
At present, both countries are implementing important collaboration projects in many fields, political ties are developing at the highest level, and have a special and historical character.