Cuba and Vietnam strengthened their ties, in the context of the official visit the President of that Asian nation, Truong Tan Sang, carried out to this country.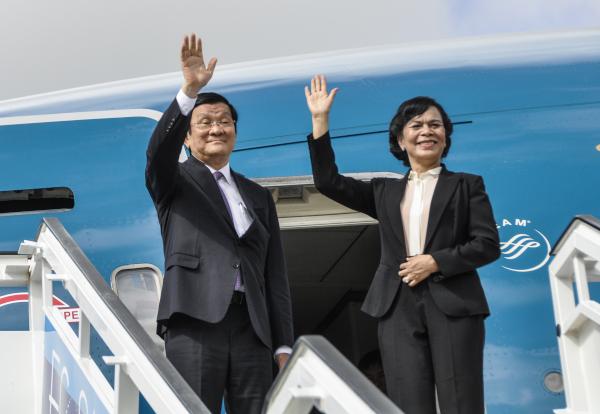 After concluding his program of activities in the island, Tan Sang described his visit as very fruitful, and stressed that the relations between Vietnam and the Caribbean island are exemplary.
As part of his agenda, the head of State opened yesterday a business forum with representatives of finance, trade and industry of the two countries, a meeting in which he urged to emphasize on new projects, particularly investment in infrastructure and production of consumption goods.
He also invited the agencies and ministries from Vietnam and Cuba to a greater exchange and rapprochement, and to maximize the potentialities and correct decisions adopted by the Cuban government, in order to broaden ties in all sectors.
He also praised the results of the updating of the Cuban economic model, and the prospects opened to place bilateral trade ties to the same level of political relations.
During the forum, six agreements were signed on cooperation between the Chambers of Commerce from the two countries, opportunities in exploration, extraction and production of oil and gas, and cooperation among the Central Bank, Cuba's International Trade Bank, and the Vietnam Bank for Agriculture and Rural Development.
Other agreements were also signed for the creation of a joint venture in charge of building a five-star hotel in Havana, and another document containing the work schedule of a joint entity in the Mariel Special Development Zone, in which detergent will be manufactured and sold.
During his stay on the island, Tan Sang also held official talks with his Cuban peer, Raul Castro, in a meeting where the excellent state of bilateral relations and the atmosphere of brotherhood that has historically characterized the ties between the two countries, was verified.