Internal elections of the United Socialist Party of Venezuela (PSUV) began on Sunday throughout the country with the traditional reveille and the call for general participation.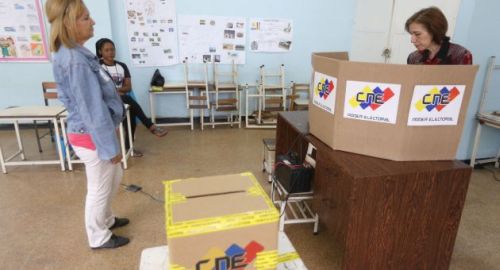 In all 23 states and the Capital District, in 87 circuits, the call recalls that for the first time in the history of that political organization, voting will be an open register, strengthening the democratic nature of the consultation.
From the Mountain Barracks, in the Caracas 23 de Enero neighborhood, where the remains of President Hugo Chavez rest, the Head of the Government of the Capital District, Juan Carlos Ugarte, pointed out that this day will be remembered as a popular festivity in support of the Bolivarian Revolution.
With anthems and the sound of rockets accompanying the beginning of the voting, Anzoátegui Governor Aristobulo Isturiz stressed the role of the National Assembly in the implementation of laws and the approval of resources that benefit the poor, hence the importance of voting on Sunday for the socialist project.
The polling stations are decorated with banners alluding the PSUV, as well as images of Simon Bolivar and Chavez, and posters identifying the candidates for each circuit, Prensa Latina reported.
According to the President of the Republic and PSUV top authority, Nicolas Maduro, the previous step for the primary elections is essential for the victory in the upcoming legislative polls, scheduled for December 6.
The head of the PSUV campaign and mayor of Libertador municipality, Jorge Rodriguez, noted that representatives of Argentina, Chile, Colombia, Brazil, Bolivia, Spain, the United States, Ecuador, Uruguay, Cuba, Peru and Nicaragua will observe the elections.
The National Electoral Council (CNE) prepared 5,613 voting booths in 3,988 polling stations, which will close at 18:00 hours, local time, to immediately reveal the first results of this election.