Only a few days before the Panama Summit of the Americas, Venezuela nears its target of 10 million signatures intended to be presented to US President Barack Obama.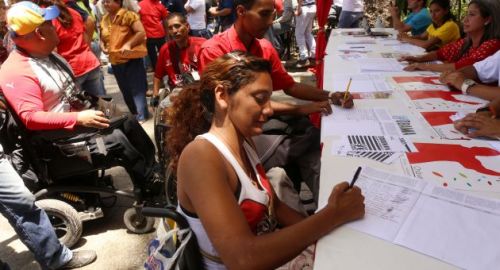 Over eight million signatures back the petition of president Nicolas Maduro to revoke the Washington declaration and this Monday still continues the presentation of the books signed in communities, institutions and in Bolivar Squares throughout the country.
'Thanks to our homeland, we are headed to the victory of peace, said Maduro the eve in his Twitter official account.
Even during the holidays of Catholic Holy Week, the recollection of signatures kept a steady pace, the Minister of Communication and Information, Jacqueline Faría.
Over the weekend, signature recollection was very active in support to the campaign Obama revoke the decree Now, initiative promoted by the Socialist United Party of Venezuela and backed by social movements and allied political organizations, she said.
Until this date, only in Caracas have been collected over 600 thousand signatures against the Washington executive order, she asserted.
For his part, the Minister of Sports and Youth, Antonio Alvarez highlighted the participation and support of the new generations and added that Venezuela is not a threat, this is a country committed to peace and defense of its Independence, that is precisely what we want to tell Obama with our signatures..
Together with the signatures, many peoples of the world condemn the northern threat, indicated the head of government in the Capital District, Ernesto Villegas.
In his opinion, this is a peaceful but conclusive way to counter the attempts of the United States to subordinate this country.
The idea is to reach the 10 million signatures to present them to Obama during the Panama Summit of the Americas, scheduled for April 10 to 11, said Villegas.
Meanwhile, in Twitter, the labels ObamaRevokeTheDecreeNow, Venezuela is noThreat and VenezuelaIsHope are positioned among the first places in national and international trends.
Last March 9, the White House issued an executive order saying Venezuela is a threat, establishing sanctions against local officials, due to alleged violations of human rights, as the restriction of assets, banking accounts and the emission of visas.