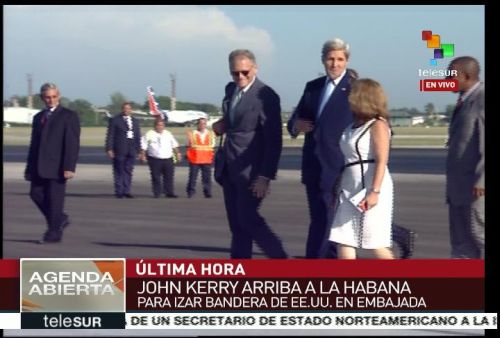 U.S. Secretary of State, John Kerry, is carrying out today a brief visit to Cuba, to preside over the official ceremony of the reopening of the U.S. embassy in Havana.
Kerry will hoist his country's flag in the afternoon over the official residence of the head of the Washington diplomatic mission in Havana.  This is the first time in 70 years that an American diplomatic head will come to the island, as the last official of that rank to do so was Edward Stettinius, in March 1945, under the administration of Harry S. Truman (1945-1953).
The top diplomat will have a busy agenda in Havana, including a meeting at the Ministry of Foreign Affairs with Foreign Minister, Bruno Rodriguez, and a press conference at the Hotel Nacional de Cuba.
Both nations officially re-established diplomatic relations on July 20 and their respective Interest Sections, which operated from September 1977, became embassies.
That day, the Cuban foreign minister presided over the official opening ceremony of the diplomatic representation in Washington D.C., occasion in which he also met with Kerry at the headquarters of the Department of State.
On December 17, Cuban President, Raul Castro, and his U.S. peer, Barack Obama, announced the decision to resume ties, broken by Washington in 1961, and move in a long process towards the normalization of bilateral ties.
In recent months, the two neighboring countries held several rounds of talks interchangeably in Washington and Havana, in which they found a way for the opening of embassies.
Cuban authorities reiterate that the main obstacle towards the normalization is the economic, commercial and financial blockade imposed for more than 50 years.
In addition, Havana also demands the return of the territory illegally occupied by the U.S. naval base in Guantanamo, in eastern Cuba, the cessation of illegal radio and television broadcasts, as well as the dismantling of subversive actions against them.
The U.S. side demands to discuss, among other items, the compensation for the nationalization of companies from that country after the triumph of the Cuban Revolution in January 1959, and in that sense, the island's government says it is willing to analyze this and any other pending issue.
The Caribbean nation asks to repair the damages caused by Washington's unilateral sanctions and aggressive actions from successive administrations that caused millions in losses and the deaths of thousands of Cubans.