Secretary of Commerce of the United States Penny Pritzker visited today the facilities of the Special Development Zone and the port of Mariel as part of her official visit to Cuba.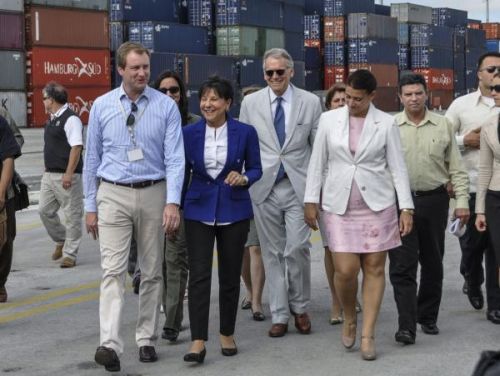 Pritzker arrived in Cuba Tuesday in a two-day visit and is expected to hold meetings with Cuban authorities, including Minister of Foreign Trade and Foreign Investment Rodrigo Malmierca.
Pritzker's visit is the second of a member of the cabinet of President Barack Obama, following the one carried out in August by Secretary of State John Kerry, who attended the reopening of the US embassy in Havana.
According to the agenda issued here, Pritzker will open tomorrow a meeting between officials of the US departments of Treasury, Commerce and State and representatives of various Cuban ministries and companies.
The meeting seeks to exchange views on the scope and limitations of the steps taken by Obama's management this year to modify the implementation of some aspects of the blockade against Cuba.
The United States and Cuba are currently working on a common agenda with short-and-medium-term objectives that will be boosted by a Bilateral Commission that has already had its first meeting in this capital city, and last week included discussions on civil aviation.