Under the theme 'Building Together', this event hosts the presidents of the regional bloc comprising 33 nations of America, all but US and Canada.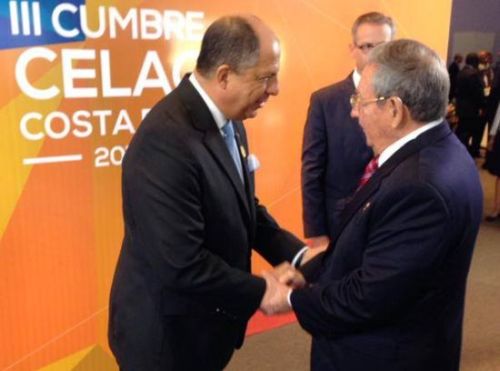 The day before the Sixth Meeting of Ministers of Foreign Affairs, space in which the foreign ministers prepared Special projects Disclosures, Political Declaration and Plan of Action of the 2015 CELAC, which will be discussed and approved by the presidents.
During the opening of the ministerial meeting, the Costa Rican Foreign Minister Manuel González, stressed that this coordination mechanism established in 2011 in Caracas, Venezuela, has given multiple fruits in its short existence, 'contributing real way to open and frank dialogue among its members' statements.
CELAC is a space for conversation in trust, addressing common problems and share positive experiences, he said.
Cuban President Raul Castro, and that of El Salvador, Salvador Sanchez Ceren, arrived Tuesday to the country, while Evo Morales of Bolivia; Michelle Bachelet of Chile; and Juan Orlando Hernandez of Honduras confirmed their participation.
Also, Gaston Browne prime ministers of Antigua and Barbuda; Samuel Hinds, Guyana; Portia Simpson Miller, Jamaica; among others, will participate in this event.
The first Summit took its seat in the city of Santiago de Chile in January 2013, while in Havana, Cuba, was the scene of the second in 2014.
On January 29 -the last day of forum- Costa Rica will deliver to Ecuador the pro tempore presidency of the bloc, which will be held by the South American nation until January 2016.