Cuban Council of Minister Vice President Ricardo Cabrisas, received today Tatarstans Prime Minister, Ildar Shafkatovich Jalikov, who is on a working visit to the Caribbean island.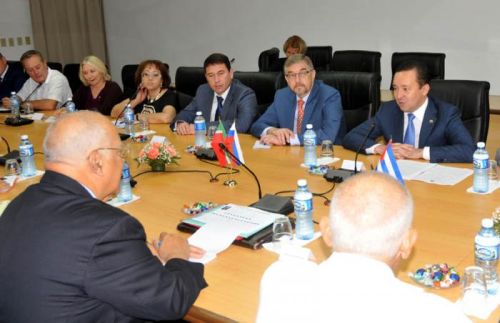 During the meeting, the two leaders talked about the positive course of the bilateral exchanges, an official note states.
The meeting also ratified the common interest to strengthen cooperation between Cuba and that nation that is a member of the Russian Federation, especially the agreements signed during the visit to the island of the president of that Republic in November 2014.
The agreements of the Cuban-Russian Intergovernmental Commission, held in the capital of that Republic, in April this year, with emphasis in the trade and economic and scientific-technical sectors, are also included, the note states.
Russian ambassador to Cuba, Mijail L. Kamynin, and Cuban Minister of Industries, Salvador Pardo, among other figures from both parties, were present in the talks.