South Korea won 8-0 over US in the final game of Premier 12 baseball tournament. Third place and bronze medal went to Japan that defeated Mexico 11×1.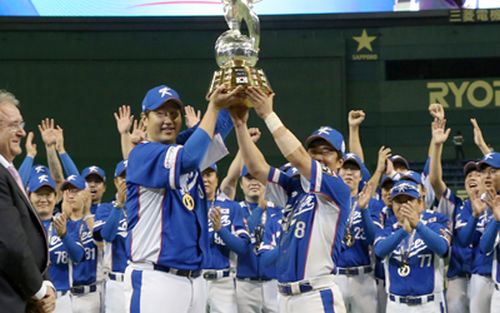 Kim Hyun-soo drove in three runs, slugger Park Byung-ho, likely MLB-bound, connected on a towering three run homer, and the South Koreans battered the U.S. pitching staff on their way to being crowned inaugural champions of the Premier 12 with a 8-0 victory in the final today at Tokyo Dome.
South Korea finished the tournament with an 8-2 record and avenged losses against Japan, rallying from three runs down in the ninth inning, and the U.S. in the semifinal and final.
Kim Hyun-soo was named Premier 12 MVP. Japan's Shohei Otani won the tournament's ERA title and Hayato Sakamoto was named outstanding defensive player.
Kim Hyun-soo, described as the "No. 1 franchise player" for the Doosan Bears, this year's Korean Series champions, by one member of the Korean traveling party, led the way in the final with three hits and a pair of RBI doubles.
The Korean Baseball Organization superstar finished the tournament with a .333 average, four doubles, a triple and 12 RBIs.
Park sent a 138-kph slider from Brooks Pounders deep to left in the fourth for his only hit of the night.
The South Korean lineup connected on 13 hits, with Kim Hyun-soo and Chang Won-jun each having a three hit night. Chang was credited with an RBI after drawing a bases loaded walk in the ninth.
Kim Kwang-hyun got the start for the Koreans and threw five innings of shutout ball, allowing four hits and striking out five in the winning effort.
There weren't many bright spots for Team USA, which had won three straight games and ended the tournament with a 5-3 record.
Starter Zack Segovia gave up two runs on four hits and walked three batters in two-plus innings. Segovia was charged with the loss.
Lee Yong-kyu began the scoring with an RBI double off starter Zack Segovia in the first inning. Kim Hyun-soo added to the lead with an RBI double in the third.
Kim Hyun-soo knocked in two more runs with another double in the fourth to make the score 4-0 and Park put a jolt into the crowd with his three-run shot off Pounders later in the frame.
South Korea could have won even with more runs because 12 players were left in bases.
Third place and bronze medal went to Japan that defeated Mexico 11×1.