The Deputy International Secretary of the Congress of South African Trade Unions (Cosatu), Zanele Matebula, said everything is ready to receive the five Cubans imprisoned in the USA for fighting terrorism.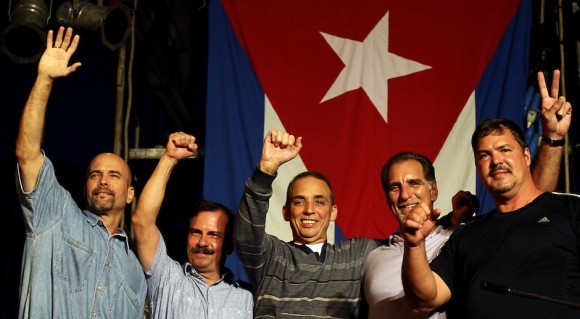 Matebula told Prensa Latina that an interesting program has been prepared from June 21 to July 3, a period in which Gerardo Hernandez, Ramon Labañino, Antonio Guerrero, Fernando Gonzalez and Rene Gonzalez, internationally known as the Cuban Five, will stay in South Africa.
The leader of the main labor confederation in South Africa expressed her joy at the possibility that they will have to exchange with the Cuban heroes, three of which (Gerardo, Fernando and Rene) complied with internationalist mission in Angola.
Matebula stressed the role Cuba played in the liberation of Angola, Namibia and South Africa, so "our relations with the Cuban people are strong."
Regarding the Cuban Five's program of visits, they will have activities in equal number of South African provinces ((Western Cape, Gauteng, KwaZulu Natal, Limpopo and Free State).
The African National Congress announced on May 17 that this visit is in recognition to the strong ties of solidarity and friendship between South Africa and the Cuban people, the organization's general secretary, Gwede Mantashe, said.
The occasion will be used so that Gerardo, Ramon, Antonio, Fernando and Rene also travel to Angola and Namibia.
South Africa was one of the nations that contributed more in the international campaign for the release of the Five, so this visit will also be use to demonstrate their gratitude to the people and government of this country -and the African people in general-, for that solidarity gesture.