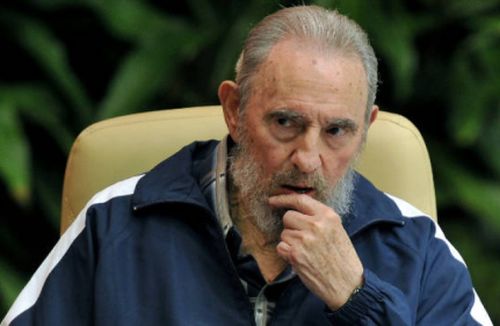 Institutions and organizations of Sancti Spiritus hold celebrations to mark the 89th birthday anniversary of Cuban Revolution leader, Fidel Castro, this August 13th.
He no longer walks with long steps, nor dresses up with his olive green suit; he now wears plaid shirts. He's a human being, not God, although having held the reins of the country for nearly five decades amidst a lot of hostilities and faced with tens of assassination attempts without being harmed, makes us think he might have some supernatural power.
Evo Morales in Cuba to Celebrate Fidel Castro's 89th Birthday
Carilda Oliver's premonitory verses will be heard again at the local headquarters of the Union of Writers and Artists of Cuba (UNEAC), where literature, music and theatre performances will be combined in a ceremony to honor one of the most outstanding men of the 20th century.
In coordination with the staff of Ruben Martine Villena Provincial Library, former members of the Rebel Army and the clandestine struggle will talk about the greatness of the historic leader, whose work has been compiled in several books such as Fidel, de Birán a Cinco Palmas (Fidel, from Birán to Cinco Palmas), by Eugenio Suárez and Acela Canner, which will be presented this Thursday in Sancti Spiritus.
The Cuban Women Federation has organized a series of workshops called Fidel and the Revolution of women, in which they will highlight the role of the leader in the transformations underwent by Cuban ladies after January 1st, 1959.  Meanwhile, the Provincial Committee of the Youth Communist League (UJC) called a twitter participation within the context of the festivities for the International Youth Day and the birthday anniversary of Fidel Castro.
As a gift to the protagonist of the events of July 26th, 1953, and to late Venezuelan leader Hugo Chavez, the local Marti Youth Movement organized the tribute walk De Bolivar a Marti (From Bolivar to Marti). The walk was started this Thursday in the site of the former Simon Bolivar sugar mill, in Yaguajay, and will be concluded in the municipality of Marti, province of Matanzas.
Different activities have been scheduled for children in Sancti Spiritus and in the rest of the municipalities of the province, in order to commemorate Fidel Castro's 89 birthday anniversary.