The President of the Russian State Duma, Serguei Naryshkin, paid tribute in Havana to the Soviet Internationalist Soldier, as part of his visit to Cuba which he termed "successful".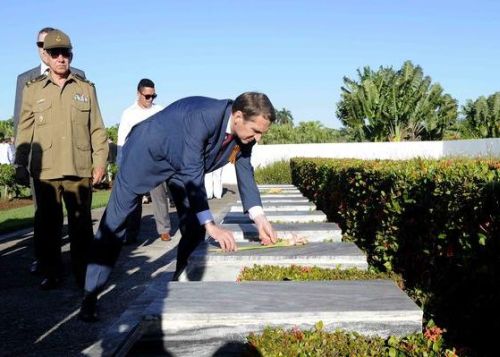 The visitor gave a lecture yesterday on the Soviet participation in the World War II.
In the event, the leader of the State Duma stressed the important Soviet role in that conflict and recalled the West attempts to distort the history to counteract importance to Russia's determinant role in defeating Nazism.
He recalled that the rise of Hitler fascism occurred with the complicity of West nations, and currently in the context of the crisis in Ukraine, expressions of neo-Nazism are strengthened, with support of those states.
On the other hand, he praised Cuba's resistance in the U.S. hostile policy, and considered that the beginning of the process of re-establishment of diplomatic relations and normalization of ties between the two countries is a recognition of the strength and courage of the Cuban people.
After greeting the beginning of this process, he reiterated the call of the Russian State Duma in favor of lifting the economic, commercial and financial blockade imposed by Washington to Cuba for more than 50 years.
As part of the visit, a commemorative stamp was issued on occasion of the 55th anniversary for the re-establishment of bilateral diplomatic relations and a bust of cosmonaut and friend of Cuba, Yuri Gagarin, first human in traveling into space, was unveiled.